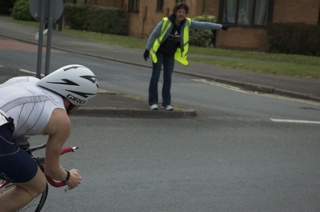 Triathlon number 2 of the season went a little better than number 1. Not great, but better.
We had another windy morning, but the rain held off for a day & I had a late start time at 11:41. Very sociable. I screwed up the swim again, which is unusual for a 400m pool swim. This race starts off swimmers every 30 seconds in different lanes, and all are tied to a master time keeper's clock so you have to go when the man says "go". Swimmers in each lane have different coloured swim caps so the lap counter can keep track of us all (and a damned good job they did too). Unfortunately the swimmers before me were slow, probably slower than predicted, and I only had seconds to get the discarded swim cap on, then my goggles & get in the water. So in my first 25m my goggles filled with water & I had to overtake 2 swimmers (1 already overtaking the other) & nail the flip turn blind. Great!
The next 200m was spent trying to decide whether to rip my goggles off or sort them out, while vaguely thrashing at where I thought the wall was at tumble turns. My main worry was seeing the lap counter's "2 laps to go" board so I elected to pause at the shallow end & sort my goggles. Arse. I got chicked in the swim too, & I bet she was swimming beautifully. I don't know. I couldn't see a thing for most of my swim. 400m in more than 6 minutes in a 25m pool. Rubbish.
Transition was a lot better this week. Not super fast but clean. The bike was a fight trying to balance effort on a 2 lap course through drags, tailwinds, a long downhill headwind section and a steeper, short climb. I think I got it about right though, trading places on the bike with the eventual winner, only losing 15 seconds to him here and making gains on most other rivals, again on standard road wheels. It hurt.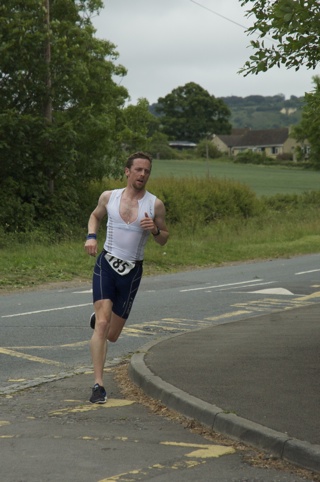 T2 was fine, and swapping shoes and using toe covers on the bike made a big difference over last week. Feet were warm and my run shoes went on easily. It seems I've got bigger over the winter though and my race top is now too tight. So tight that it was restricting my breathing for the first lap of the run. My legs didn't feel too bad but my chest was awful. My breathing even got noisy, freaking out other runners that I caught. I barely managed 6 min/mile pace over the 5.7km & the leaders left me standing. Out of the wind on lap 2 movement felt good though, so maybe there's something there.
Result: 4th overall and I was beaten by 2 vets so I got 2nd place in the open category, which is nice. The big thing for me was that 2nd overall was only 19 seconds faster than me. The winner was 2 and a half minutes clear though. Next year?