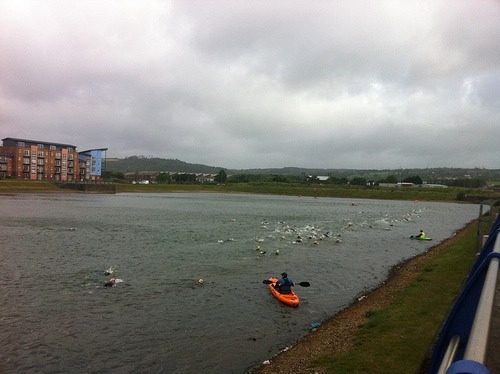 This race didn't really go as planned. For me or for the organisers.
It was a super windy morning, and as the name of the race suggests, it's right by the sea so it gets all the wind. Luckily the swim isn't in the sea, but in the north dock. Even that had a bit of chop in it! The bike was on a 17mile out and back route which was going to get hit by a 25mph head/cross wind on the way out, with gusts of up to 45mph. It was going to be more fun coming back. The run was 2 laps on the path right by the sea, so no hiding from the wind there at all. A tough race in store for 288 boys & girls, with some quality competitors in the mix by all accounts. I think the strong winds probably worked in my favour, despite my little legs. Mentally I'm fine in the wind these days, and the gusty wind meant that no-one was using really deep front wheels, something I haven't been able to afford. A disk on the back would have been fun though.
Wetsuits weren't compulsory & as it was a 500m swim (I measured it closer to 600m on Google Earth later) I didn't bother. 286 people wore wetsuits. 2 didn't. Hmm. The swim was fine sans neoprene, but all my old bad habits seemed to come flooding back under race pressure. I swam straight though, so that's an improvement on last year. I swam ok but not great & was out 15th in my wave & was in the mid to low 20s overall.
The cold water suggested I might be too skinny for skinny/Lycra dipping when I fumbled to get my race belt on with cold fingers. Then trying to get on my bike was a disaster. A cold brain and legs and numb feet made it impossible to get my feet on top of my shoes (clipped into my pedals). The shoes span & span. I even got off the bike & remounted. At least I didn't fall on my arse or take anyone else out. Any gains I'd made in the swim disappeared.
Eventually I got going, struggled with cold fingers to get my feet inside my shoes & not get blown off & started pedalling. My legs felt weird, like I was above my lactate threshold effort but my heart rate was low. Arse. I was cold. I took place after place, but couldn't find my pace. When I got overtaken by a couple of club mates I dropped back, but then the pace felt way too easy. Bugger this. I just turned it on, took those places back & hammered the wind out to the Kidwelly roundabout, & then hammered it back again. My heart rate got to somewhere more sensible & my legs started to feel looser & less lactatey. The water from the dock wasn't making my stomach feel too good but it stayed in except for the odd docky belch. I got held up by a few cars & had to slow for a roundabout but nothing major happened.
Back into transition & my feet were even colder than when I got out of the water (toe covers got ordered that day). I got off the bike ok (whoop!), racked it, lid & glasses off on automatic, but I struggled to get my right, numb, block of ice into it's running shoe. The toes catch on the bits of elastic holding the tongue in place. I broke the heel loop forcing my foot in. I even had to sit down to get the left foot in. I'm not racing in those again (I ordered more elastic laces for other shoes that day too).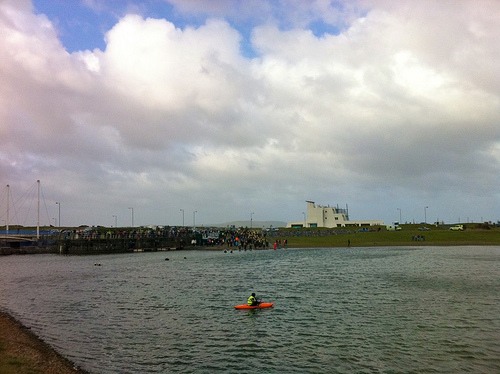 Wow, running a fast 5km at the end of a triathlon hurts. I forgot how much it hurts. Legs were moving well though, calves were fine, but my chest was straining. Nothing asthmatic, just musculoskeletal. The monster headwind didn't help. Apparently I was pushing away from those behind, so although my run fitness is not where it should be right now (my fault, stupid boy) maybe my improved economy is getting me through.
It was weird that no runners were running the other way, back to me.
At the dragon roundabout turnaround the marshalls waved me on, forwards. "Aren't we looping back here?"
"No, that way."
Ok, they must have changed the route during the race. Maybe it was too windy for the planned loops.
Still no-one was coming back though. I kept pushing & kept picking up places, really looking forward to turning & getting the tailwind. Eventually I could see runners coming back & I wanted to see how far ahead the leaders in my wave were. Those coming back waved to us though. "There's no turnaround! We've gone the wrong way! Turn back!"
Eh?
288 runners had been sent through the turnaround, instead of back on the correct route. And there were no more marshals after that turnaround, so people kept running. And running. And running. Until they hit Burry Port & had clearly run a lot further than 5km already. Uh-oh.
So I turned back, we all eased up. We chatted. We had the tailwind but weren't appreciating it. In the lead group we crossed the finish line together, glum and sour faced. The organisers didn't look too happy either. It was a quiet finish to a race.
I nipped off home as clearly the race was void & Kim had a special karate training course to get to. I'd been pretty psyched for this race, and not just because it was the first race of the season. I wasn't angry, just disappointed, & sore. I was as disappointed in myself as in the race.
This was a local race, run and marshalled by volunteers. These things happen. If it was a huge profit-making firm I would have been more pissed off, but it was just a local race that failed. I still got a lot out of it: I now appreciate the advantages a wetsuit gives you in the bike, not just in the swim; don't panic when things go wrong (bike mounting, cold legs); my biking has improved a lot as I had the 6th fastest bike split; triathlon hurts; I can still do it; I've still got a lot of work to do.
Ugh. Meh. TTG Gloucester Triathlon next week.