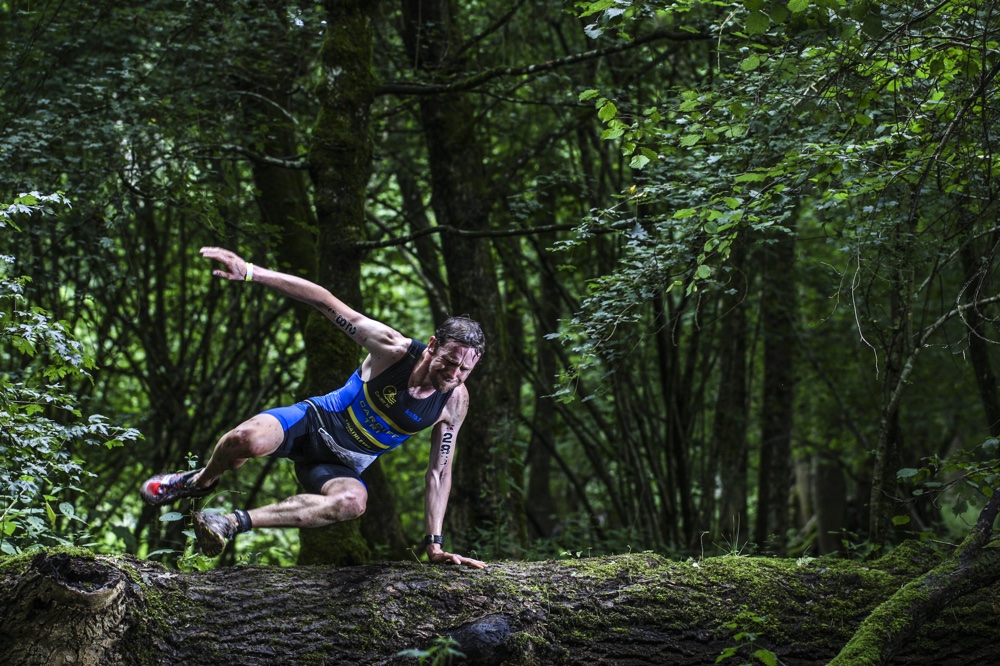 What happened? I was happily looking forward to the end of the triathlon season, followed by a whopping increase in gaming time, doughnut eating, lazing around, and probably some sleep too, and then XTERRA happened. After a summer of struggling to train consistently, mental fatigue (and a whole load of physical fatigue), and thick with work I'm now keen as hell to race more XTERRA, to learn what I'm missing in my MTB XC skills, to try out tubeless, and to tweak my race bike for mud (and any other condition we might get). My legs tell me that I'm not as fit as I thought I was, and that I need to do a whole bunch of different stuff so that next time I'll be better prepared. This is great! I'm keen! I'm enthusiastic! I want more! Oh wait, my last race of the season is at Bala on Sunday.
I had a lovely swim. There were no nerves before the start whatsoever, as I stood around chatting to Jamie, a graduate of our medicine programme in Swansea and now a working doctor that I hadn't seen for a while. The swim in Vachery pond in XTERRA England is always nice and relaxed for some reason. My race plan was to swim easy (which isn't really "easy" but at a pace that saves my shoulders for later work), bike smooth and then run. I.e. RUN! Like someone's chasing you. Which they were. Over large ditches, through bogs and over fallen oaks. I would also be doing some chasing. Hunting.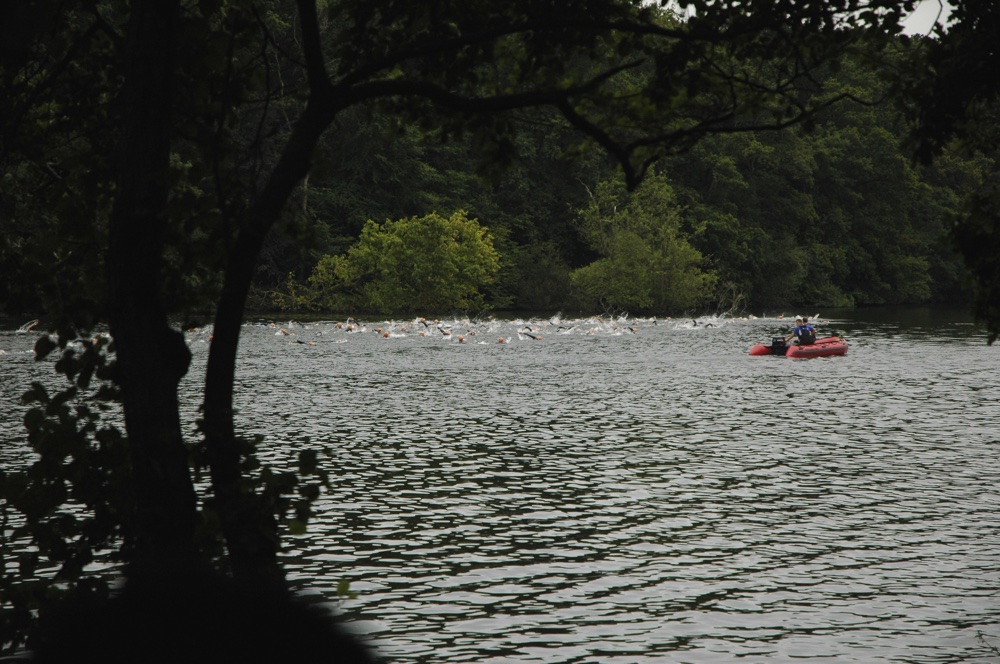 The swim started a bit wrong. A bunch to my left were slowly creeping forward from the start line in the water, and as the starter was marking time to the start ("1 minute!", "30 seconds!") someone in a boat called to everyone to move back behind the start line. But he also blew a whistle, so those guys ahead of the start line started. If you hear a loud noise at the start of a race, you start, I guess. The rest of us looked around and when it was pretty clear that you don't do false starts in this type of race we thought that maybe we'd better start too. Instead of a typical red lined, max power start and settle into 1500m pace I was able to start steadily and work my way through the pack towards the front. Which was nice. A large group to draft and swim through. Around. Or over. Whichever way, it worked.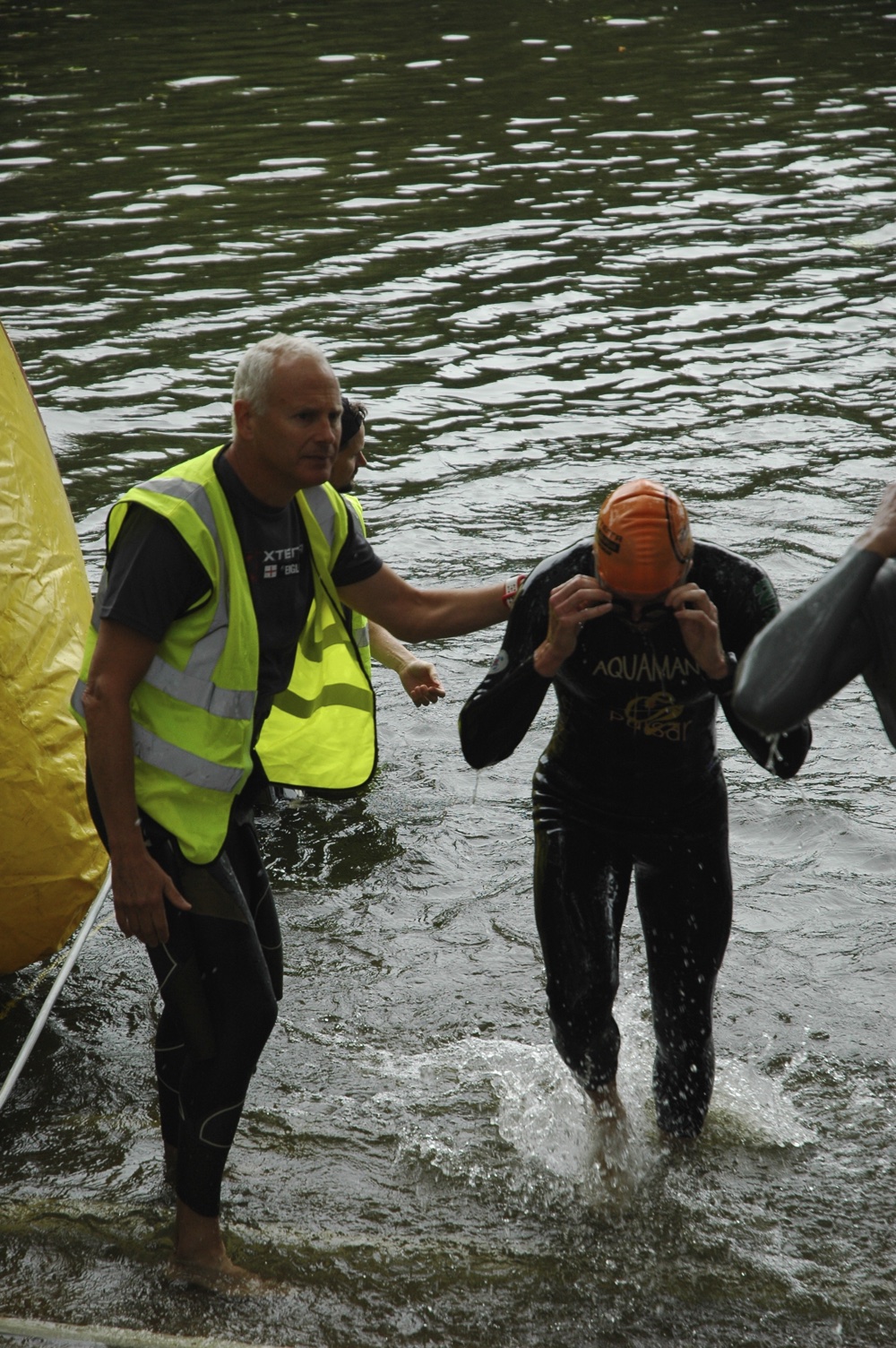 I ended up swimming to the far buoy without a draft as anyone near me didn't seem to like swimming in a straight line, but I assumed we'd come back together at the turn. Which we did, and I grabbed a new draft. After the turn back my leader again seemed happier swimming off towards the bank rather than towards the swim exit so I left and moved up to the next group. I've done so little swimming this summer that I should have had very poor fitness, but I was enjoying the sheltered swim, was very chilled out (but breathing and pulling hard) and soon moved up again. I drafted to the swim exit and came out 11th in my wave, I think, and up there with the medalists in my age group. Huh. Maybe I *can* swim?
I managed to wrap my zip leash around my wrist as I stripped my wetsuit arms, again, and ended up looking like a maniac fighting his way out of a strait jacket through T1. I'd pinched Kim's mountain biking shoes for this race as I still haven't bought my own race shoes yet, and put them on loosely, with helmet, grabbed my bike and got straight out and into the woods. And the mud. The slippery, slimy, Surrey clay.
Two hours of slipping and sliding followed, with some overtaking being done by me and some overtaking being done by others. I only had one solid fall (because someone fell on my line, and hey, when it's that slippery you don't get to choose that many lines) and a bunch of foot downs. I had the wrong tyres for the conditions, made some poor decisions (I should have run stuff i tried to ride) and lacked a little skill in places. That said I also pulled off some of those awesome moves that just make you feel great when they work out. Immense fun, huge concentration, balance and some running required. Towards the end of the bike leg hamstrings and quads kept threatening cramp, but I was still sad when I had to go back into transition. But hey, the run leg was going to be big fun all over too, right?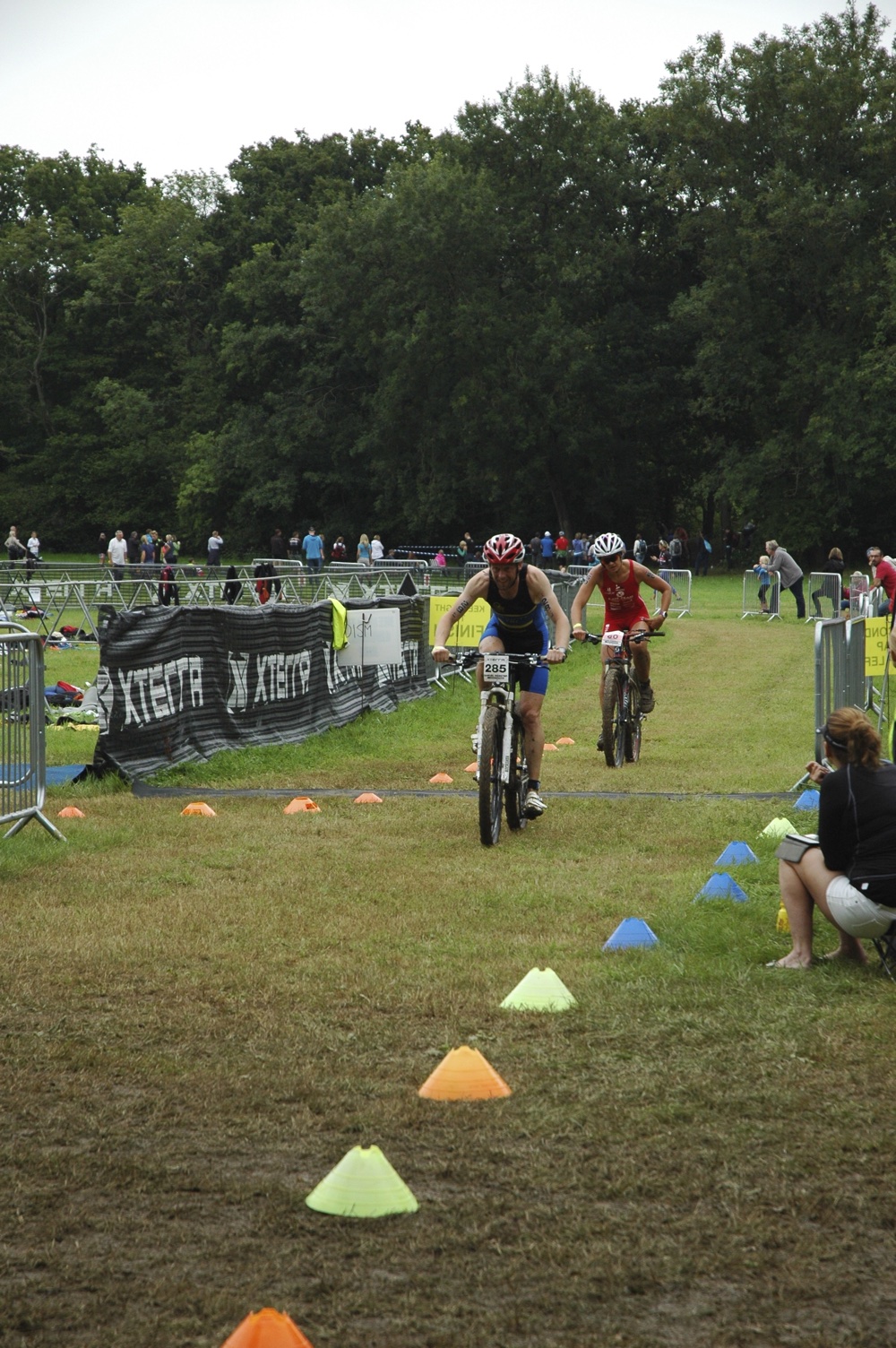 My run legs worked! I was surprised. The ground was very uneven and slippery through the woods, but my shoes were perfect, and I had enough in me to leap the 2m ditches. After 1 leap I did wonder about the subsequent 3 leaps. The bigger guys found the leap a mere stretch, whereas I had to grab the other side of the ditch to check my landing. I moved well, picked up a bunch of places, and again, was thoroughly enjoying myself. Mixed in with high levels of pain and the usual count down of kilometres to the upcoming finish line. I did wonder if I'd broken my ankle after landing in a mud filled dip inverted on my left ankle, again, and creating a nice, loud crack. After a short hobble it seemed ok, so what the hey? Just more pain mixed in with the rest. There's a nice path and climb on this run route which I find really chilled out (at pace), followed by a woody descent where you get to stretch it out as long as you're landing accurately. The second leap cramped a left hip adductor muscle which eased off before leaping over the fallen oak tree. The lap was repeated, with the 3rd leap going ok, but the 4th leap gave me a solid adductor cramp. I ran through the trees slapping my thigh, leapt the tree again, and started pushing through and around the group in front of me. Were they on my lap or was I a lap ahead? By the time I left the trees the cramp had eased and I pushed the pace up through the field to the line, getting a nice gap behind me. Wow. That was hard. Difficult.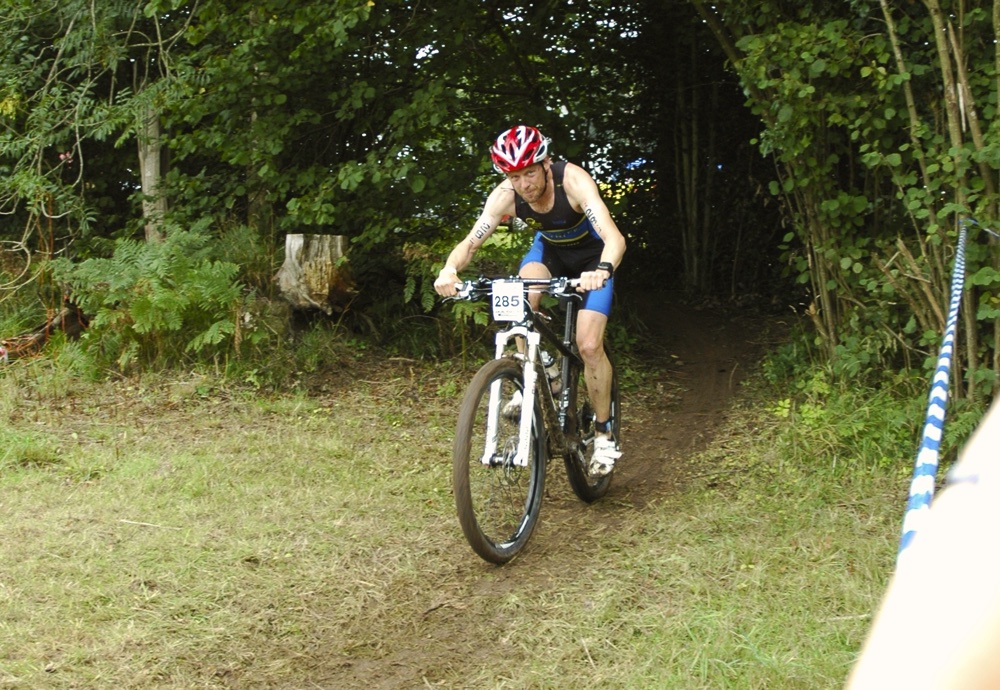 I finished in exactly the same position as last year I think – 4th in my age group and 39th overall, including all the pro's. My big loss was on the bike, but the swim and run looked ok. The finish was followed by a cold shower in a field from a spray bottle hose pipe thing, lots of food, some beer, a live band, and a bit more rain. We stayed overnight and drove back the next day, it being a bank holiday and all that. A great weekend! When's the next one?
Oh right, we're off to Bala this weekend for the last triathlon in my 2015 season. My body is still broken and putting out the level of power you'd expect from an engine with a broken turbo and the handbrake stuck on. Gareth at Swansea Health Solutions has been gamely trying to get me ready for Sunday, but I think we both know that the best he can do is crack the bits of my body back into roughly their appropriate places. It's going to be a great weekend, with more camping, time with club mates (shame there's no team prize though) and a final blast followed by doughnuts after the finish line. One more smash!