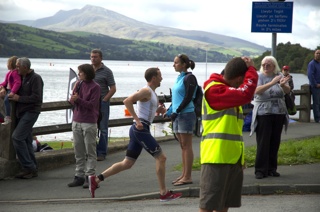 Bala (standard distance) triathlon, 2010
So that was an interesting weekend. Kim and I went to Bala for the last race of the triathlon season. It was great getting back to Snowdonia and fun to camp, although we don't seem to be as slickly organised as I vaguely remember. Probably the best thing about Bala is that a whole bunch of Cardiff Triathletes go up to race, and it's good to catch up with faces that I usually only recognise as email addresses or usernames.
Anyway, race day. The lake was cold! It's nice swimming in a lake after all the sea swimming I've been doing. A much better taste. No sign of Teggy or Gwyniad in the black depths during the swim, but some twat did kick me hard in the chest when he switched to breaststroke to sight. What? Why? I came out of the swim in the top 25 in my wave, and yet I'm swimming next to a guy that breaststrokes? WTF? Not a good idea. We're drafting in a tight group & kicking out hard unexpectedly isn't nice. It's akin to standing up quickly on the bike in a group climb and sending your bike backwards into the bloke behind you. If he'd kicked me a tad lower I'd have been winded & that would have ruined my race. I'm all for the tussle of the swim but that's stupid.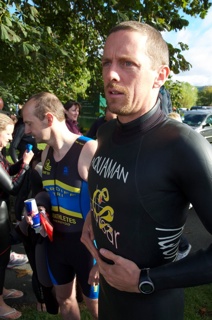 The swim felt a bit crap but the time was OK. I'm getting faster but the numbers were about right. I'd borrowed a wetsuit that fits and it probably didn't make much difference to my time but it felt great. Streeeeetchy!
Cold feet, swift through T1 and out on the bike, and almost bounced off the curb (not paying attention to where I was going). I passed Mike and Mark (didn't notice Mike at the time) and kept my HR and effort high. I swapped places on the way out but got passed time and time again on the way back. It was pretty frustrating and I was feeling a bit negative in places. I kept giving myself a positive spin and kept pushing back to T2. I certainly didn't ease up and was wondering how I was going to run after pushing so hard on such a flat course. A skinny guy like me is much better off in the hills, especially against these guys with big legs & lots of watts. The time was disappointing.
I struggled getting my feet in my running shoes in T2. It only took a handful of extra seconds but my cold feet made it hard to feel my way in past the stretchy bits holding the tongue in place in my Sauconys. I think I'll swap those for something else next year.
Running out was hard but my pace seemed ok. Again I was swapping places, probably picking up more than I lost. The run is also very flat and largely on the straight road by the lake. As usual I felt a bit better after a mile or so but all the work I'd put into my biomechanics wasn't paying off as I was moving a little craply. It seems I struggle to move efficiently when I'm tired. Into the camping park, around the tree (bleep-bleep over the mat), back out and back up the road.
Chasing a guy I kept trying to up my pace but squeezing it just a little I could feel the big fade coming on and had to ease back to my previous speed. I was definitely right on the edge! I couldn't have breathed any harder. I almost caught a group of three on the line, but it wasn't happening. I hit my target of 37 min 10k pacing (the run was 10.25km) proving that I can bike hard and still run hard.
So, during the race it all seemed a bit crappy, but if you'd been looking at my recent training data you'd probably have predicted the times I achieved, so that's ok. I performed well, but there was no magic. There were just a lot of really fast boys out to put me firmly in my place. By my reckonings, if I'd been trying to qualify for the European Age-Groupers' Champs next year I'd have officially missed out by 1 place.
Rather than being a negative experience it turned out to be a motivator. When I realised how flat this race was my first thoughts were to not bother entering next year, but after my effort I started thinking that if I could shave a couple of minutes off the bike, a minute off the run and a couple of minutes off the swim I could get down to 2 hours. I'd be around the top 10 then…..
We (Cardiff Triathletes) also won the team prize, so that helps! Go fast!
P.S. Jonathan Hotchkiss won this race. I just read on his website that when he first did Bala in 2003 it was his fourth olympic distance triathlon ever and he finished 86th overall. Bala in 2010 was my fourth ever olympic distance triathlon and I finished 41st overall. You might say I'm a little old, or you might say, "Yeah, but he's a pro". You guys are all cup-half-empty. I say, "Hmmm, maybe if I just…"
More:
Kim's photos.
Bala standard distance triathlon 2010 results.
Cardiff Triathletes