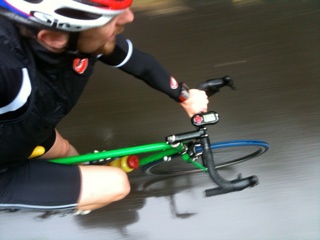 Well, my last triathlon for 2010 anyway. I've still got a bunch of running races lined up (and a sneaky aquathlon).
This will be one of the few races this year that I hope to feel fresh for. I've spent most of the year trying to catch up my fitness (after breaking my foot) for the Windsor triathlon and this weekend's Bala triathlon. I was knackered at Broad Haven for example, which fell part way through my highest volume week of the year. So on Sunday I'll be very interested to see what I can do on a fast, flat course after some well organised training. If all goes well I should set myself a good benchmark for future years.
I'm also looking forward to going to Snowdonia again, as Kim and I used to visit North Wales regularly when mountain walking and climbing. We're leaving the kids at home, driving up on winding roads and camping so it will be very much like old times! Thom has lent me a wetsuit that fits a lot better than my un-snug Snugg (the Snugg is a too-big-hand-me-down) so I'm up to set a new swim PB. The swimming in the pool this week has been the best I've swum all year.
As this is the last triathlon of my season my training changes radically after this weekend. For the next week there will be no plan, and I'll allow myself to do what I like training-wise every day. After that I'll run almost every day, dump most of the biking, and swim as I feel. I'm extending my racing season into October to make up for the lack of training in February, and will run the Dale half-marathon in Pembrokeshire and the Cardiff half-marathon, hence the run focus. I also like running, and would like to run more. Even with that much running the number of hours I spend training will drop radically, allowing me to do all the things I haven't had time for. In late October and November I'll probably try to swim 5 days out of 7 and dump the running and the biking, letting parts of my body and mind recover from 2010 while trying to improve a weaker area with little effort. Then, when the time comes to resume cycling I should be looking forward to it, not dreading more hours in the cold and rain. If I cut out the cycling for a bit I tend to get hungry for it again, and I'm an all-weather cyclist.
Oh, and I love the autumn.
So its a bit of an annual landmark weekend. Fun, racing and changes.