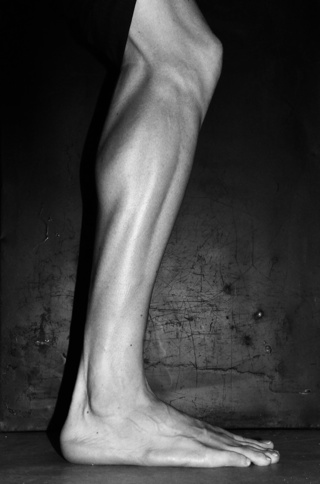 Towards the end of my base phase of training, when the training volume was getting high (and the training load was higher than ever before, but mostly due to all the swimming I've been doing) and I added in some early season racing, I got a fair bit of calf soreness. My legs have been rock solid for a while, and a lot of the work I've been doing under the care and guidance of Gareth at Swansea Health Solutions has paid off.
I had to run very hard at the Mumbles Duathlon but I was feeling good again a few days later. I had a long, well paced run that felt fine until the last 20 minutes or so, when I started to get a medial soreness in my right calf. The next day on the bike it was sore so I skipped the planned brick run, and ran the next day off road in an easier workout than scheduled. Maybe I'm getting sensible in my old age? It felt ok. I had a day off running, and ran on Saturday, again dropping the planned long run and going for a soft, trail run over the Gower. Running a tarmac section I picked up a sudden pain in the calf. I walked it off and finished the run ok, although my legs generally felt like crap. I iced the tear for a couple of days, then added some heat and stopped running.

A week later I was planning to run at the Isca duathlon. I'm not much of a duathlete but it's a Welsh Championships event this year so I fancied having a crack at a medal as I moved into the vet40 category. I tried a run on Saturday evening but only managed 800m until the muscle tightened up and stopped me from running any further. No race on Sunday.
It's a fairly common injury for runners, a tear to the gastrocnemius. I think the medial head developed a trigger point which shortened the muscle a tad on that side, eventually leading to a tear distal to that (lower down on the calf). The advantage of being a multisport athlete is that if you can't run but you can cycle, you get to do more cycling. So I did more cycling.
After 10 days of not running I tested it again. Each day it felt different, with less pain on climbing stairs or walking, and by 10 days it felt pretty solid, even when stretching it. I ran for 20 minutes with no pain. Great! I went to see Gareth at Swansea Health Solutions for an assessment and a bit of work, and it seems fine. Maybe being sensible paid off? I recovered during a scheduled easy recovery week so I don't expect any significant loss of fitness.
The new thing that I learnt from this is to pay more attention to the development of that type of stiffness and soreness. And to go and see Gareth to work out what's going on before a tear!