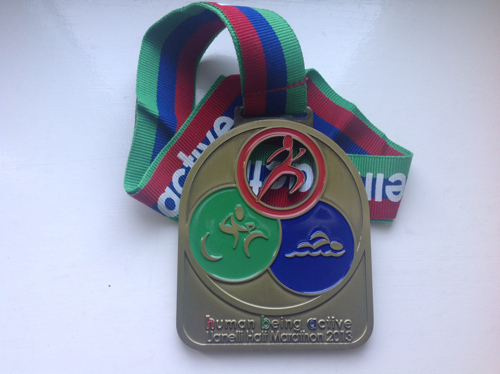 The Llanelli half-marathon started on a cold morning, which is typical of this race, but without the usual rain/hail/40kph winds. There was a fair old breeze blowing by the coast but we had a bit more protection this year on the new course. This is an early season leg-tester/leg-speeder-upper. It's an indicator of what the legs have, of weaknesses, and of what needs to be done. So what happened?

It's a 13.1 mile run, which is always a bit of a long way at pace for me these days, but it felt better for me this year than it has for a couple of seasons. For once I was disciplined and started steady and not like a bat out of hell. I aimed to run the first half of the race at a comfortably fast pace and to then try to run the last 10km like the 10k at the end of a triathlon. The first half was pretty nice. It was around 0C but running fast in a vest was plenty warm enough. We had a tailwind out which helped the km splits, but turning back into the wind killed the pace.
The return run needed a strong, quick driving pace and it felt harder and faster. I caught up with club mate Jess at around 5 or 6 km to go and I felt pretty good. Around the golf course the running surface was a bit loose (part of the cycle path I run on most weeks) and the bank of earth between the path and the sea protected us from the wind. My stride was still good, but it all started to get even harder with just a handful of km to go. I didn't notice my pace dropping but Jess passed me again a little after we got back on the road. Believe me, I hammered it all the way to the line with everything I had but my pace wouldn't pick up again, even with the tailwind.
Running the last mile along a huge, major A-road normally full of traffic, with just runners around me would have been a pretty cool way to finish a race if battling for position, but as it was I was in a big suffer trying to keep my pace up and to get under the banner in under 80 minutes. The maths were against me but you never trust your mental arithmetic when you've been running at lactate threshold pace for over an hour.
I only just sneaked in at 1:20:57 and in the top 30 finishers. I would have liked to hit 79 minutes but March is early for me this year fitness-wise; my first peak should be in June if I get it right. I need to log many more minutes at speed yet and after an early winter's period of laying down miles I feel more robust than recent years.
Righto. Best get on with it.