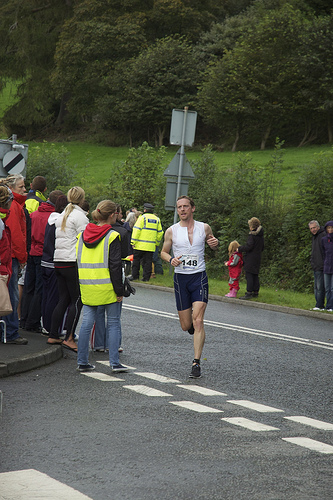 How windy was North Wales for the Bala weekend? (How windy was the whole UK?) It was a wee bit breezy up there (25-30mph), and it was a south-westerly, blowing the length of the south-westerly lying lake and its parallel bike and run courses. Sheeesh. If you can't race in the wind your race was over before it started.
I'd sorted my head out in the week before for the expected weather and had reconnoitred the wind on the bike course to help with wheel choices and pacing strategy. Camping the night before the wind hadn't seemed too bad, although it was very wet. The lake looked ok too. A bit choppy, but nothing too nasty.
Before the start my heart rate was unusually low. It's usually a bit elevated as I'm chomping to get into the water and my body is ready for 2 hours of hard work, so maybe I wasn't too excited about the weather. It was bright though. Just windy with some showers expected to come up the valley.
I got in the water lateish to avoid getting too chilled. With the horn the plan was to go out fast & get on some fast feet for a quick swim, but when we charged off it was clear that it was more of a survival swim than a nice, clean, techniquey swim. I was finding feet and shoulders, but we were all getting so bashed by the waves that we were getting pushed off line and any rhythm was broken after 5 or 6 strokes. Rubbish. Waves were hitting in pairs, so you'd miss a breath or half grab one as you got hit by one wave, and then get smashed by the next one as you were gasping. Cracking stuff. It was a long way out in the headwind to the turn buoy. Kim said that at least one kayak capsized and swimmers were pulling out in the first 100m. Not a bad call. The one word in my head for the whole swim was, "brutal".
At the far buoy we turned 90 degrees to the wind and at last had some respite, but when we turned back to shore the tailwind was as bad as the headwind. Pairs of waves would lift you, dump you, and then catch you again. I got into some sort of rhythm coming back but it wasn't quick and it wasn't pretty. I was content that everyone else was suffering too (although I'm damned impressed by the leaders who charged through the 1500m in 20 minutes).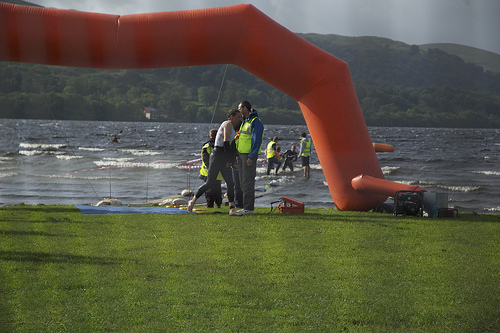 The marshals at the shore were great in giving us a hand out as we were a bit wobbly, and grabbing our wetsuit zip pulls out for us. I was very happy to get out of the water and to run into transition, but the swim was strangely satisfying. It was challenging mentally and physically, I suppose.
I ran past my bike (lots of bikes) and had a bit of a wander back until I found it. I'd stuck the disk and the deep front wheel on it and was glad it hadn't blow away. Wetsuit off, lid on, grab the bike, run out and cleanly mounted, getting up to speed without putting my feet in my shoes until I hit a little downslope as I knew my hands would be cold. That was pretty good – I haven't raced since the beginning of July and hadn't practiced T1 because of the poor weather so I seem to have got that wired now.
Legs were a bit chilly and as they warmed up it became easier to feel the pace. The wheel set was the right choice for me, despite warnings and an almost ban of disk wheels because of the wind. As we were blasting out into a direct headwind and much of the road is sheltered by trees and walls the bike handled fine. The road is closed, so there are no gusts from traffic, and in the top 20 we were well spaced out so we were unlikely to get blown into one another. The headwind meant that being able to run a disk and deep front were even more important to aerodynamics. It got a little boisterous on more open sections, but no worse than I'm used to in training, and the only time I came out of the aero position was on a couple of overtakes on downhill bends just to be safe, and on a couple of climbs. Other than that my upper body was relaxed and I was comfortable.
I think it took me around 33 minutes to get to the turnaround point, and then 27 minutes to get back. Windy! Pacing seemed good, I picked up more places coming back, and my legs felt dead for the last drag but I pushed them over the top. A wet and windy day in Wales, and I enjoyed the bike leg a lot. Fun! The weather must be getting into my bones.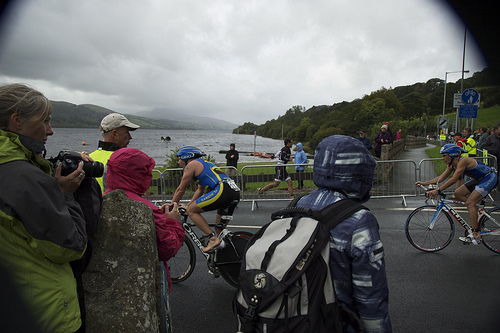 It was wet going into T2 and great marshalling looked after us and made sure we went in safely. Clean and out with a big grin on my face for some reason, the start to the run was tough as ever and the first couple of miles were slow into the wind. Glad to see the big tree that was the turn point I pushed the suffering up to max and made note of placings and competitors as we passed each other on the out and back course with cheery waves to other Cardiff Triathletes. As wet and windy as it was, I still poured a cup of water over my head & down my back at the aid station as I was so hot.
Push, push, push, on the limit and counting down the mile markers it was an awesome feeling to see the crowd at the turn to the finish by the lake. A big gap ahead and a big gap behind meant I could ease up a little around the final short muddy loop to the finish line. I found 2 guys that had passed me on the run and gave them both a slap and congratulated them on their excellent running. We'd all done well.
19th place for me meant a tidy improvement over last year. The swim was, funnily enough, slower, the bike was faster by 46 seconds even with the wind, and the run was faster too, if only by 4 seconds. That made me very happy as my running hasn't been as consistent as I'd like this year.
Given the conditions the experience of the organisers and the marshals at the race was important. They allowed us to use our experience to choose the right kit for the weather and our abilities, and they didn't shorten the swim but gave maximum support and focused on safety. I guess it would have been easier for them and less scary to have cut the race down, so thanks to them for sticking with it.
Mentally I performed better than last year, and physically I did OK too. I'm keen to come back for another crack next year. I'll keep working to keep moving up.
The following week I was battered. I managed a 15 minute swim, but was knackered after 10 minutes, and my body didn't really like jogging until the following Sunday. Pootling to work and back on the fixie was as much cycling as I was up for. Bala was the final peak for the year, so now I'm taking it easy, eating junk food, putting on weight and playing games. I'm sick of chocolate already, but my addiction to Coca Cola may well have returned.
On a related note, I laid down my tenner with the BTF before Bala to make myself eligible to qualify for the European Triathlon Championships next year, and qualify I did. My placing at Bala means that I can race as a GB age grouper in Israel in April 2012, which sounds like fun. I could bloody do with some sunny racing.
So my winter challenge will be to work out how the hell I can fund the travel to an international race.
Links
Bala Tri 2011 photo gallery (Flickr)
Bala Triathlon results 2011

Bala Triathlon results 2010