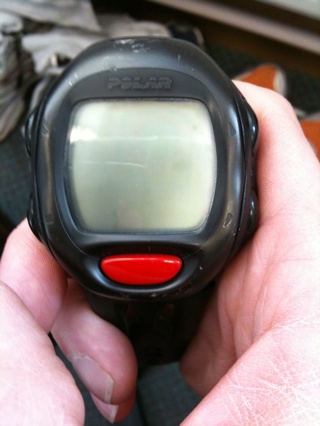 I thought I'd revived the little fella with a new battery and a little TLC, but it looks like its days of partnering me when training are over. It has had a tough life.
After its last new battery a couple of years ago it misted up when swimming in Africa and has been a little dodgy every since. As a heart rate monitor, speed and distance meter, altimeter and chronometer it has been superb. It has been battered and dropped, soaked in sweat and chlorine, and used daily for 4ish years. OK, it's getting a bit clunky and it's not perfect or 100% accurate, and OK, Polar are failing to update their software, ignoring Mac users and creating their own standards (dodgy USB-IR and no Ant+?) but it worked hard, and it worked tirelessly.
I guess it's time to jump to Garmin and take advantage of GPS, ANT+ and Mac-compatible software.