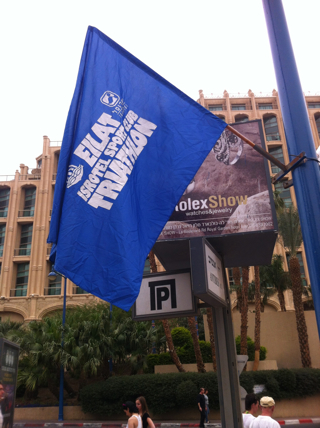 My first A race of the year, and my first international triathlon was held in Eilat, Israel. A bit warmer and drier than we get in Wales, so not perfect to prepare for, but the windy desert wasn't far off what we get on the coast here. I qualified at Bala last year for this, the Euro Champs, to race in the standard or Olympic distance race in the 35-39 year old age group. It was a bit of a trip to get out to (22-23 hours each way! Lots of hanging around in airports) but turned out to be well worth the time, preparation, organisation and hassle. I had a great few days out there with some great people.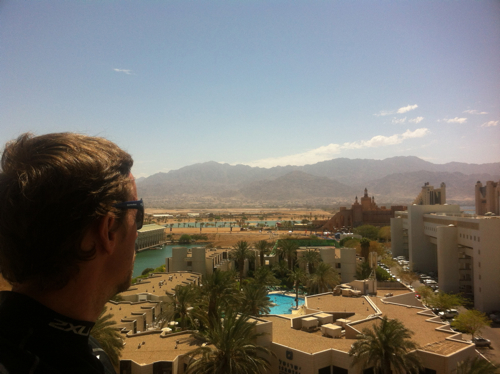 The topic of the week was whether to wetsuit or not to wetsuit. I was fairly adamant that I wouldn't use a wetsuit but after 10 minutes of bumbling around in the Red Sea I realised that 20C is pretty chilly for me and I was reminded of Thom Phillip's comments that modern rubber is fast, even removing the buoyancy aspect. After the Llanelli Tri last year I also realised that there's an advantage to keeping your legs warm in the swim, ready for the bike. I spent a little time checking out parts of the bike and run routes too and pretty much sorted out my tactics based upon the wind direction.
I was glad when we finally got to race morning. My bike had been approved and racked, my trisuit had been okayed, and disk wheels were finally cleared for use 1 hour before the start. I was healthy (Gareth and I at Swansea Health Solutions had worked hard to fix some running issues over the last year), fit and ready to go, so standing on the start line I'd completed one of my main aims!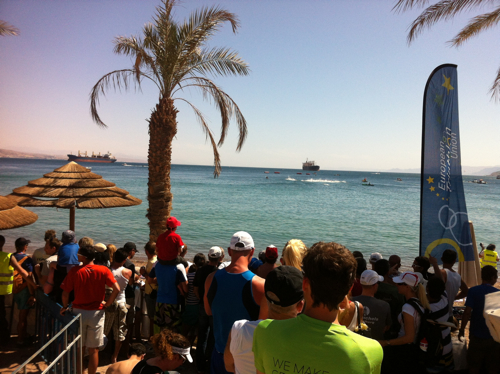 Us blokes in the 35-39 age group had the largest group (I think) and a start wave all to ourselves, and I didn't get a great start position as we all lined up in a single row before the starting mat. I was a bit wider than I would have liked. I'd set my fancy schmancy new Garmin 910XT ready to go with an automatic triathlon set up so it would switch from swim to bike to run with lap button presses and I hit the "enter" button as the horn went and we legged it down the beach and dived into the sea. Nice. I started fast, got on some feet and found my pace but those feet wanted to go left to form a group and I wanted to go straight for the first buoy, 700m out. I stuck to the straight line tactic, went for the buoy and we came together as a group there, turned into the sun, then 100m later turned back to the beach. I felt pretty good, a new higher stroke rate helping this open water swimming lark even in a wetsuit. Jolly good. Close to the beach the fatigue started to build, so good pacing I reckon. I stroked until super shallow then pulled out & up and started the looooong run to transition.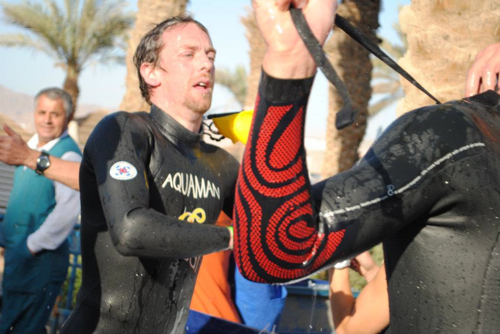 I'm happy with long segments like this. I looked down at my state-of-the-art watch to see my swim time, and found I hadn't started the thing. Oops. I'm getting to that age where modern technology is getting smarter than I am. Er, press start, lap, er, lap again (?) to get to the T1 segment. Blimey. My brain might not have been working too well before the race but it certainly doesn't work well after 22 horizontal minutes thrashing my arms around.
Plenty of time to strip rubber, tuck its arms in and run. From in the water I thought I was positioned ok but it's hard to tell in age group waves. I think I was 8th out of the water. There were quite a few bodies in transition. Nip through to my bike, step suit off, lid on and glasses on. Sunwise had sent me some lovely new blue tinted Chromafusion GS lenses for the bright Israeli sunshine. I ran the bike out and mounted on the road straight into the headwind so I didn't get both my feet in until after the first turn.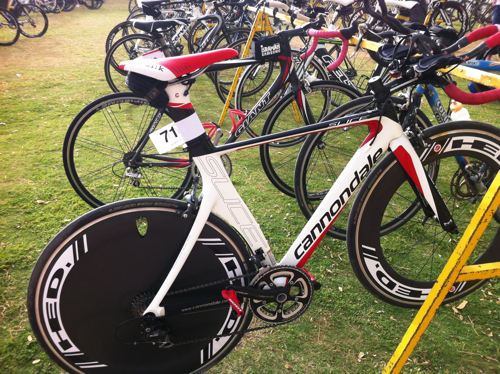 There were a few bikes out ahead of me and my strategy was to hammer the bike hard for the first 20km out to the turn. We were going out into the desert, steadily up a slight drag into a strong wind. Hit that hard, pick up places before the turn, and we'll fly back at 50kph with little opportunity of making gains on each other. So that's what I did. Tick, tick, tick, place, place, place. I swapped places with the eventual silver medallist, but other than that I picked off athletes one by one, stretched out on the desert road. We had draft busters all over us (3 motorbikes, I think) so it was clear that we were doing a good, legal job. I had a little back and forth placing tussle with a rider as we got close to the turn (we could see the roundabout from a long way away, and it didn't seem to get any closer) so as it steepened I pushed it hard past him again, slowed for the turn and grabbed a bottle. The aid guy did a great job as even though I slowed for him I must have been motoring already! I poured the entire water bottle down my back to counter the reduced cooling effects of the tailwind home.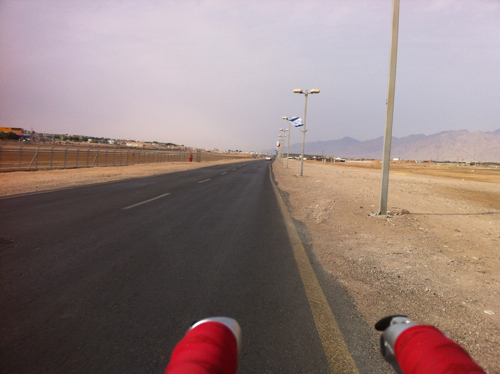 From the turn I was hitting 60kph, and averaged around 50kph all the way back with a top speed of 69kph. And there were no descents! Windy day! I'd stuck a GlucoJuice to my top tube with tape, and pulled that off to drink before the run at about 50 minutes of biking time. That worked well and I stuffed the empty bottle into the top of my trisuit to dump at the first aid station on the run. I'd also had one before the race along with a can of unknown energy drink which I'd hoped had lots of caffeine in but was only labelled in Hebrew. It turned out that I'd ridden my way into 2nd place by the roundabout and held that to the end of the bike and T2. I've made some significant power gains over the winter and was struggling to really believe the data from my iBike power meter, but I guess it might be correct! Check out the speed data for windy!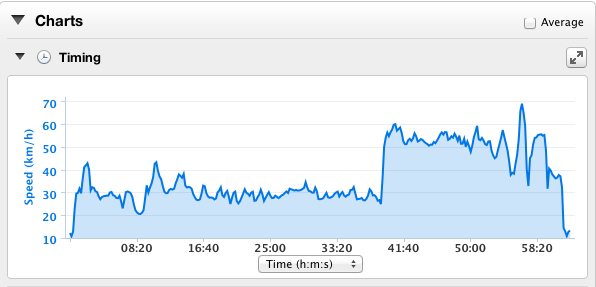 I didn't know my position at this point and it wasn't until partway round the first lap of the run that I realised that the announcer had called out "and here comes the 2nd place athlete from Great Britain" when I ran out. Was he talking about me? I started out at the usual pace, and began to get faster. The looping nature of the 4 lap run course meant I could try and figure out from race numbers and calf markings who was in my age group. I didn't see many, but saw more enter the run course after my first lap round. Nice! I lost one place on the run, and couldn't hold his shoulder. We encouraged each other as we passed, but I couldn't lift my pace to stick with him. For the 3rd and 4th laps I would normally be able to raise my pace at this distance, but not today. I pushed the effort up to the limit in the second half but wasn't getting any more speed out. It wasn't a fast course, with turns, hairpins and changes in surface with lots of gravel. I guess I used up a lot on the bike, or maybe it was a bit hot for me. The aid stations were great and I dumped 2-3 cups of water on my head every lap and that seemed to keep my heart rate to the right level. It felt good too! It turns out the water clearing feature of the Sunwise GS lenses was useful after all!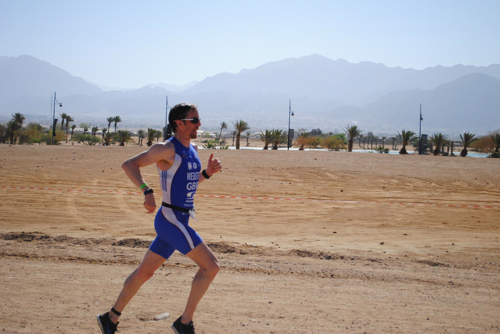 I'm still trying to learn where my developing fitness levels are, and with the hard first segment ride strategy I guess I found my level on the run. I couldn't have run fast enough to get myself into 2nd place and was happy that I'd pushed myself to my limits for the race by the time I staggered over the finish line. Big effort. Back slaps, handshakes, and water in the shaded athlete tent.
After crossing the finish line I had the strangest feeling of, "oh it's over!" Not the usual elation of finishing, the triumph of placing well or the thankfulness of it all being over, but a feeling that I'd like to go around again (my legs wouldn't). That months and months of preparation; financial, organisational and physical, was over. All that work was at an end. A successful end, but an end. It was done. Funny, I've never felt that before.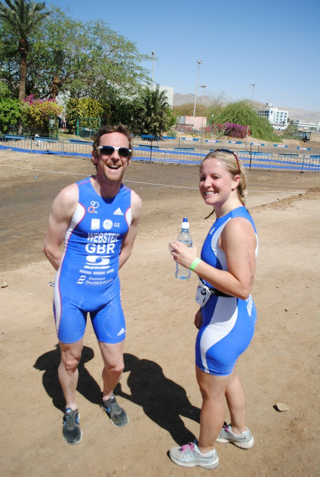 I caught up with friends watching (after a long, smiley hobble round a block to get across the barriers, chatting to GB supporters), cheered on friends racing, and enjoyed the sun and the setting. Eventually I got around to the athlete's lounge and lots of cake, bananas, cake, iced water, and cake. Lovely. Cake. When I went to get my bag I found that the results were up and my name was in 3rd place. 3rd place! I'm getting a medal! Awesome! At the same time the fella that finished in the silver medal position found out his placing too, and much back slapping and cheery, sweaty hugging followed. I found my friends and team-mates and told them my placing and they were as chuffed as I was. Awesome, awesome, awesome. What a good week. Lots and lots of work over a very long period of time ending in a good result. There's nothing better.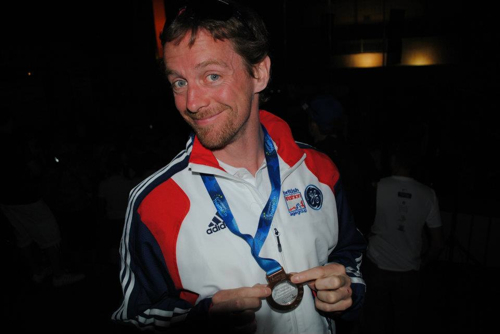 The following week back in the UK I had the usual struggles with coming down after a high along with soreness, fatigue, eating like I'd been lost in the wilderness, and not enough sleep. It has been time to transition to the next phase, to analyse, consider and plan. The first big race of the season was a massive success and the whole thing was a lot more fun that I thought it might be. Now its time to look onwards to the remainder of the season with lots of races to do, a couple more peaks if I can manage it, more qualifiers and an end to the season with a bit of fun and maybe some fundraising (for charity, not for me).
Thanks to everyone that helped me get to the podium in Israel. My sponsors: Swansea Health Solutions, Sunwise, and BBI Healthcare with their GlucoTabs and GlucoJuice products have all played key parts in getting me out there and helping me perform as I did, and my friends and family have been big supporters of what I've been doing. I couldn't do any of this without Kim, of course, and I hope she also got a lot out of the result. Unfortunately she didn't get a tan, but maybe next time?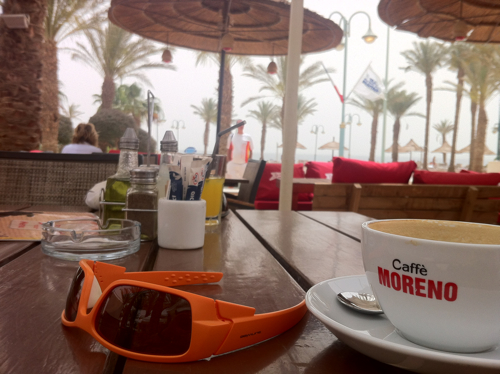 (Thanks to James Manson for the photos of me).