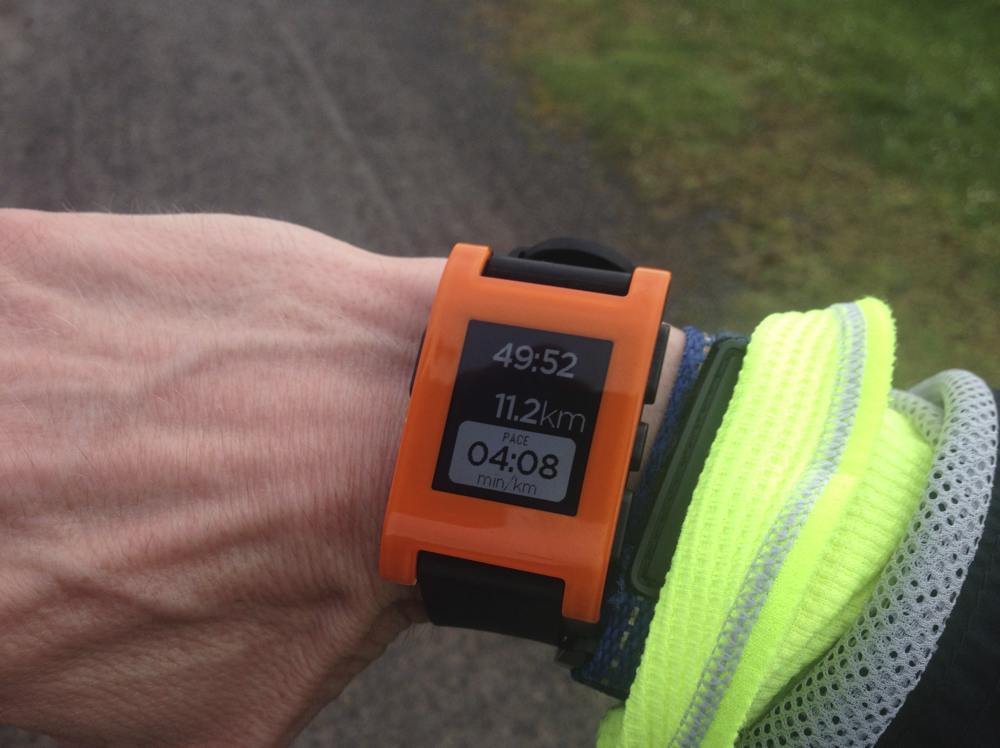 I went for a run with my Pebble yesterday. Being a geek and a triathlete I collect huge amounts of data from my training and have been using Garmin & Polar devices for many years, but as I was running with my iPhone anyway (something I rarely do but needed to be contactable) I thought I'd see how the Pebble works. Short answer – it works really well but it's very simple.
I used to use the Map My Tracks iPhone app to allow my family to see where I was when training and to see if I ended up in any hospitals (only once so far), although we just use Find my Friends now. The Map My Tracks app was still on my phone so I started it up and dipped into the settings as I knew it had Pebble support.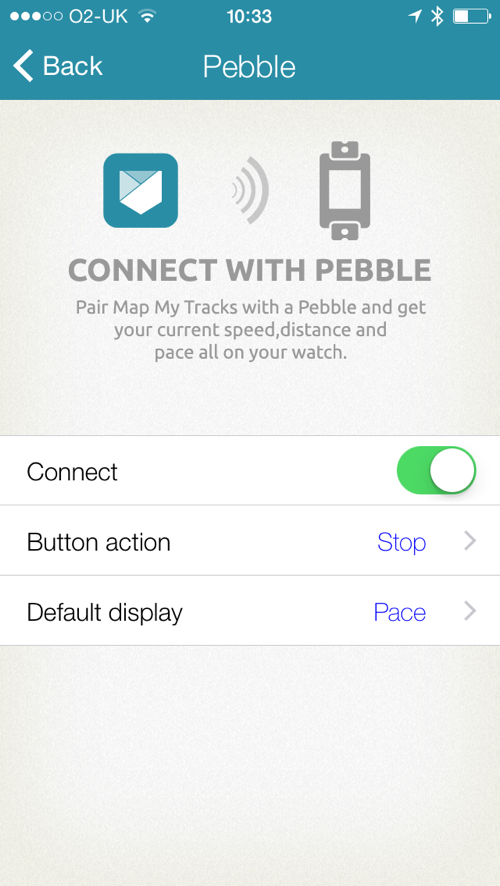 I was initially confused because the Pebble option had already been selected, but this makes complete sense in hindsight because your phone knows you're connected to your Pebble because of the Pebble's iOS app and its Bluetooth connection. Next question – how do I get the running data to display on the Pebble? I haven't seen that option in the Pebble anywhere. Oh, you just start the run on the Map My Tracks app on the phone and it automagically appears on the Pebble Watch. I'm pretty certain it couldn't be any simpler.
And then you run.
I had my Garmin 910XT on one arm and my Pebble on the other, like a true nerd. They rarely agreed on pace, and no doubt the GPS abilities of my iPhone and Garmin are a little different, but the disagreement was probably more to do with sampling rates and smoothing over time than anything else. Certainly they were pretty similar, and both suffered when running through thick trees. I tried taking my iPhone out of my pocket and running with it in my hand to see if that helped but it didn't seem to make any difference. The Pebble doesn't have any built in GPS, and all the work is done by the phone. The Pebble will only display the 3 rows of data you can see in the photos, namely time, distance and pace/speed. I don't think you can change this, but I wonder if future updates to Pebble software will let you see your heart rate. This is becoming more common on iPhone sports apps with many Bluetooth heart rate straps now available, but there will also be competition with the Apple Watch and Android Wear watches that have built in heart rate monitors. It is possible to do this with at least one Pebble/Android app right now (AeroTrackerPro).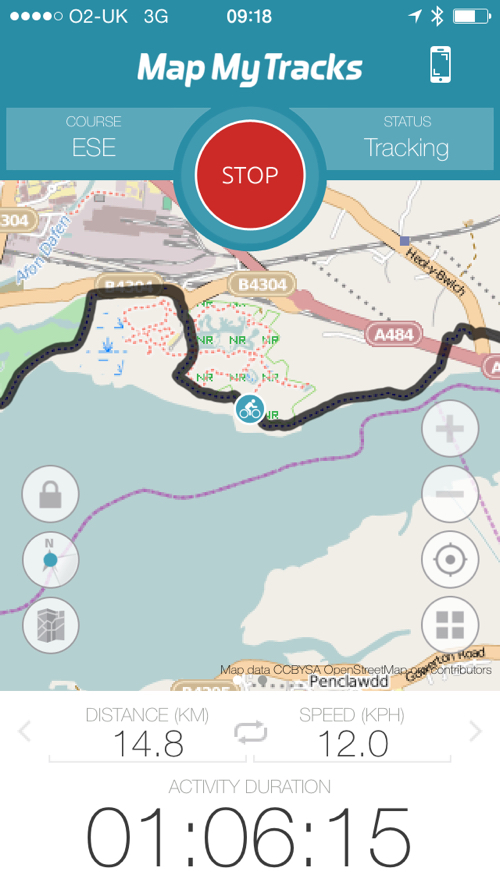 If we compare the results from the Garmin and the Map My Tracks – Pebble combination we can see that the average pace collected by both is very similar at 4:34min/km and 4:33min/km, and the distances on each are very close too. You can see from the run time that I started the Map My Tracks app a little earlier than the Garmin as I was trying to work out how to use the Pebble. The screenshot above and the bike icon shows that I mucked it up and somehow selected a cycle rather than a run, but on the Pebble I set the speed display to "pace" anyway and didn't notice until afterwards.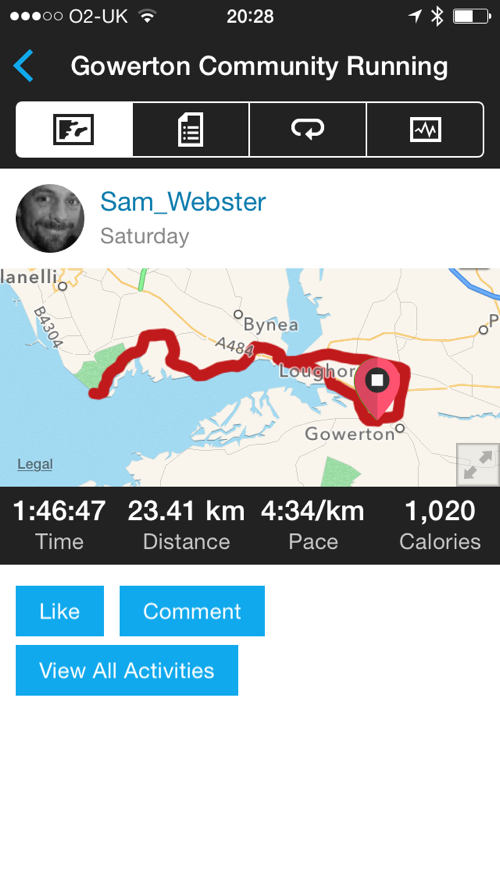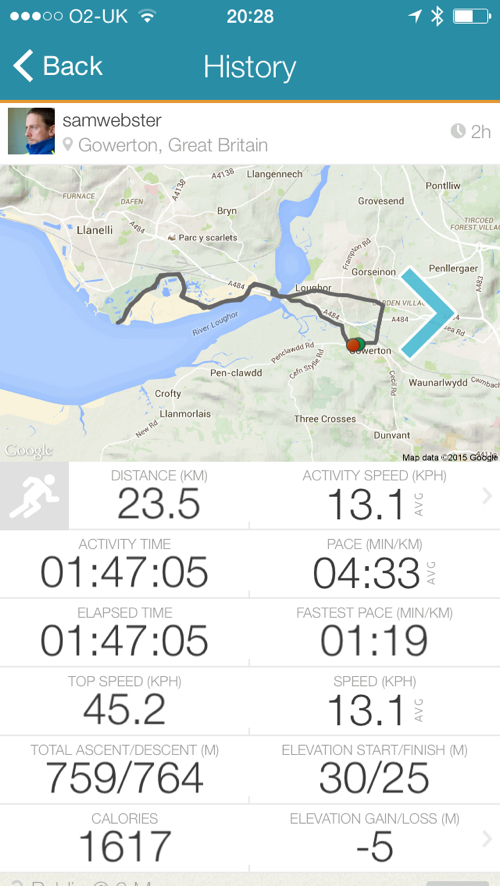 While running I was able to see notifications on the Pebble and cancel them in the usual way, and I could go back to a normal watch face and cycle through them, and return to the Map My Tracks run display by pressing the middle button and scrolling to the bottom of the item list where the Pebble "Map My Tracks" app had been magically added. Select that and I was back in the run screen. Neat and predictable. It was also very handy as I was worried about a phone call and by seeing the notifications on my wrist I didn't have to get my phone out every time it beeped and buzzed.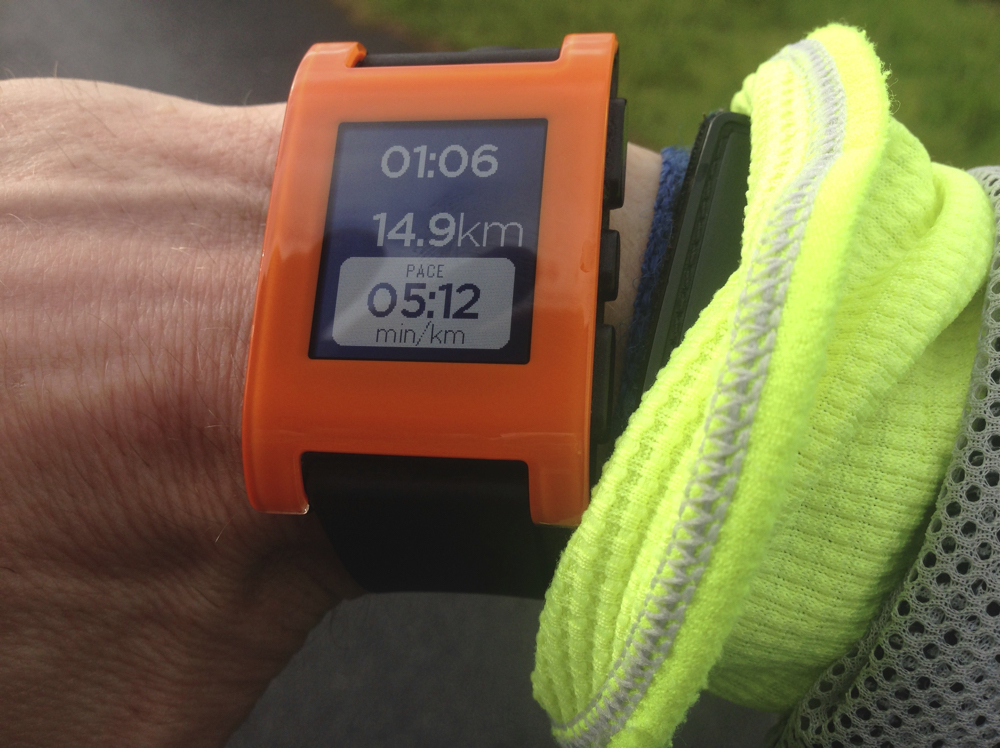 The display on the Pebble is lovely in bright light. It's very clear and reflective, and much sharper than my Garmin 910XT's display, but only shows the 3 fixed options. It's sharper than it appears in the photo – my eyes can't pick up those jagged edges at wrist distance. Typically these are the 3 options that a casual runner would want, and the options that I used most during this run. On this run I included 5x 5minute tempo pace segments with 75second recoveries which was programmed into my Garmin, but the Map My Tracks app can't handle intervals (as far as I can see). I don't see how a running app on your phone would trigger notifications on your Pebble either, if you were following an intervals session. Also, when running intervals I change the display on my Garmin to show interval time, pace and distance, something you wouldn't be able to do with the Pebble/app combination.
The Pebble is light, well thought out, well integrated with some running and cycling apps on Android and iPhone, and would suit the casual or regular runner that doesn't want to shell out for a dedicated running watch. I look forward to finding out if the Pebble Time takes this further. I'm hoping to play some golf with it later this month & I'll have a swim with it sometime too.