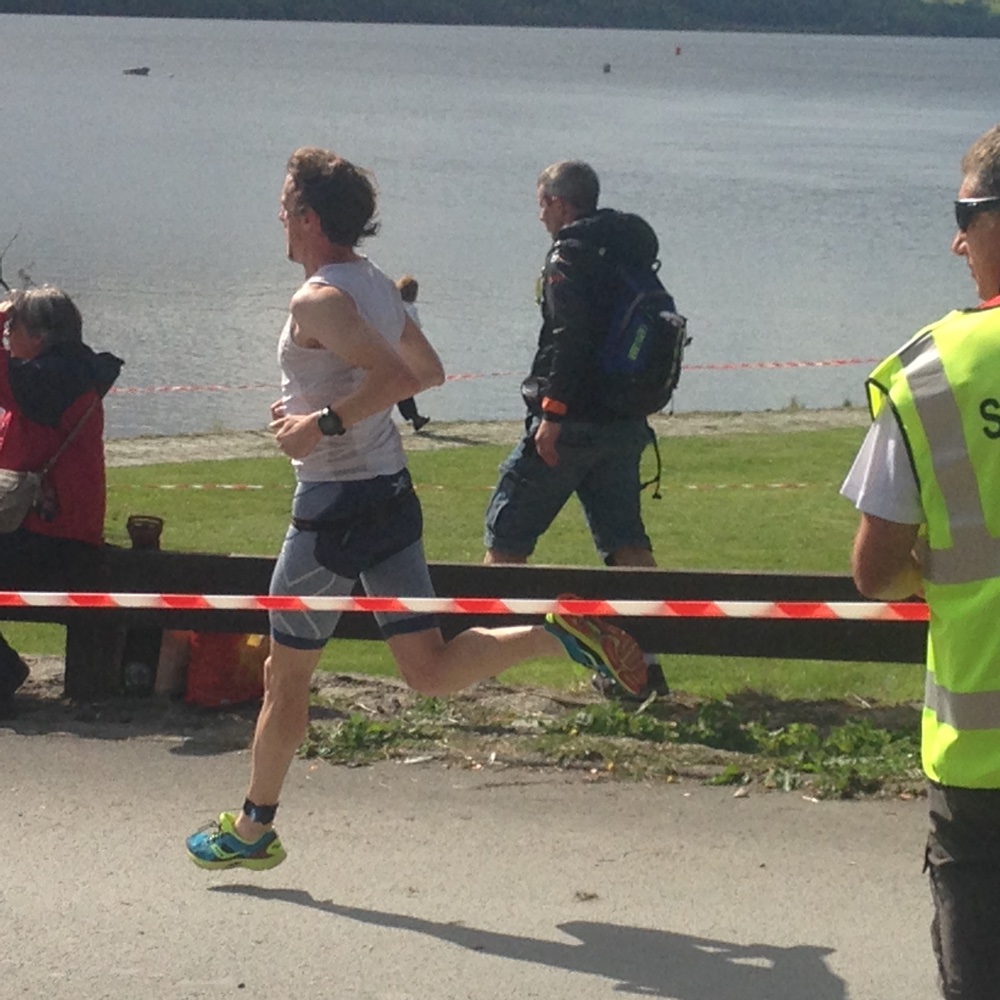 This is a very late race report. One of the things about the last triathlon of the year is that you look forward to the season ending and the start of doughnuts, lying in bed in the morning, and shifts in routine. I've also been lazy about writing up my last race of the season: the Bala standard distance triathlon and the last European Champs 2015 qualifier. For a flattish out and back race it was somewhat eventful.
I wasn't feeling too sharp before the race and looking at the data afterwards I can see that my fitness has been gradually declining during the season because of all the racing I've been doing. You rest for some races, it takes a while to recover before you can really train properly again, and then you're straight back into the next race. Although racing regularly sounds good for race fitness, it's not. It may be more effective for shorter races but for 2 hours of triathlon the recovery is too hard.

So I wasn't feeling sparkly. No problem. Crack on with it and you'll feel better when you get going. I started beside the buoy behind a big fella and easily got onto his feet. Looking around this looked like a good choice, complemented by another swimmer trying to take the same feet. After taking a few punches to the head and goggles I moved up to his waist, but seeing that the swimmer trying to push me off was comfortably on his feet I dropped back behind that guy and tickled his feet for the next 1000m. The swim felt fairly easy until the zip on my wetsuit burst. I got a cold back and cold water down my legs, but the drag didn't seem too bad and I held the feet ok.
We'd started in the second wave so I used the two guys ahead of me to push through the stragglers and my effort was higher on the way back. It was still a very nice swim though. The Bala swim ends with a shallow finish over a rocky ground so I pulled my way as far in as I could before hobbling through to the exit. My swim time was ok, and the course was a little long. I dropped the two guys through transition even though I found when I jumped onto my bike that I'd forgotten to undo my bike shoes. Oops. I stopped, unstrapped my right shoe, stuck my foot in, strapped it up and carried on up the hill to the main road.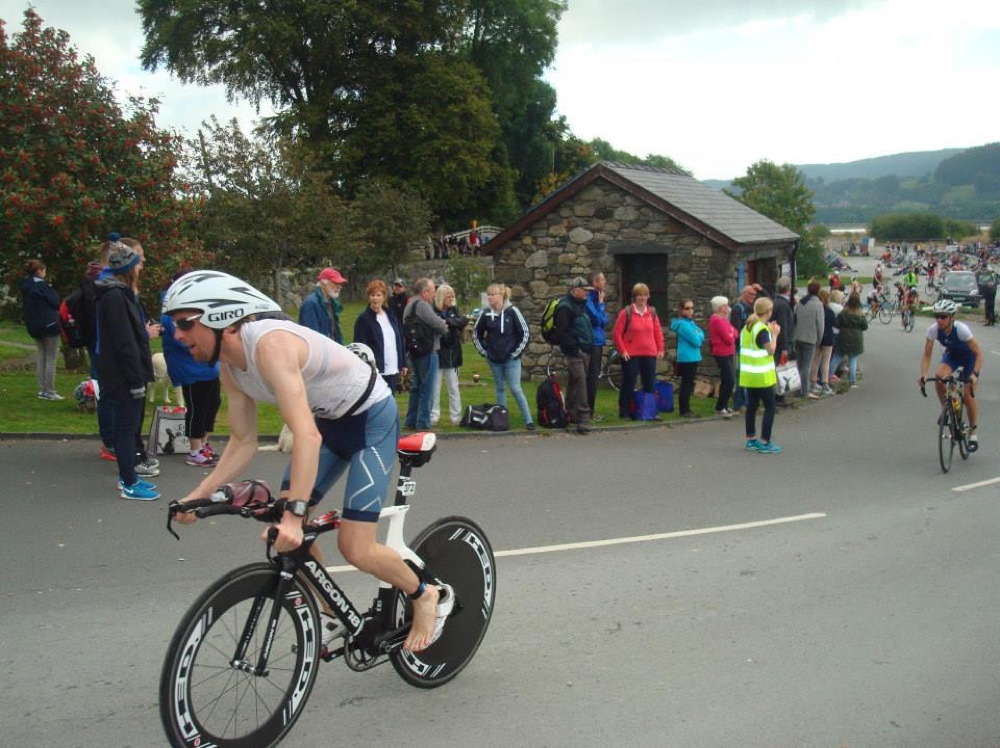 I struggled to get fast on the bike but held a solid aero position and just pushed my legs to what felt right. They were cold to start with and my feet stayed cold all the way through to the run. Cycle out, turn, cycle back. There's a bit of a drag back. It's a shame I had to stare at the tarmac in front of my tire the whole time because the views are lovely. I got caught by two guys from my wave at the turn and got into a bit of a tussle on the way back. It was probably good for my head and finishing the bike section smoothly and quickly put me ahead of them and I didn't see them again. By the start of the run it was clear that the fast swimmers that I would have hoped to have seen by now were further ahead than I would have liked. My head was in a good place for the run and I got into it, pulling back a few places and maybe losing one, but not gaining on the front of the veterans wave as far as I could tell. Finishing strongly and having pushed hard all the way after looking at the results I saw that I'd beaten one guy by only 7 seconds or so and must have caught him just before the finish. Yikes! Always push all the way! It's difficult to tell who's who in multiple wave events.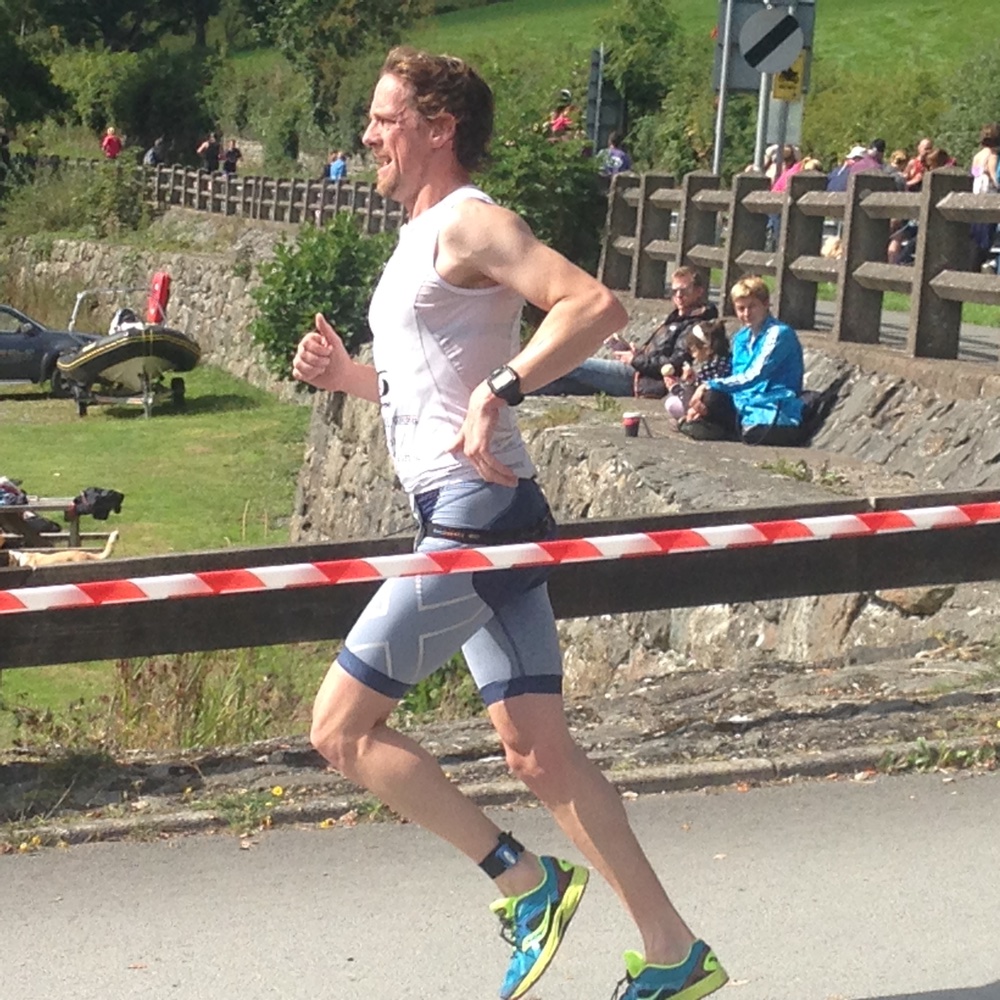 I finished 3rd in the V40 category and way down the field overall. I was disappointed, but I've had a good season and done lots of fun things this year so I'm not going to complain. The big fat prize helped. Racing is fun but you can have too much of a good thing. I had prequalified for next year's European Championships with my result at Kitzbuhel but it's nice to know I would have qualified with my efforts at this race. I like the race at Bala – it's good fun and there are usually a bunch of people from Cardiff Tri camping and racing too. A fun weekend away. Next year's race seems like forever away.