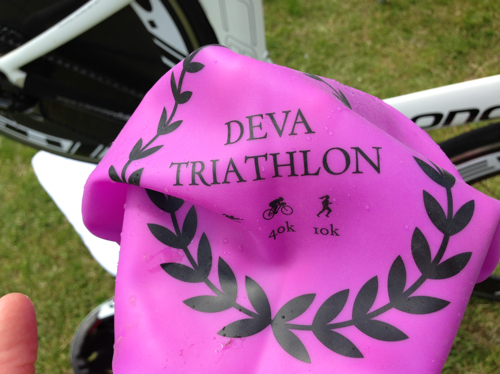 Oh dear. They say you learn more from your bad races than from your good ones, so I'll try to do that here.
The Deva Triathlon up in Chester was a World Age Group Triathlon Championships qualifier, and as we have a home World Champs this year, and a home World Champs on the Olympic triathlon course I expected qualifying to be tough. I don't think I expected it to be this tough. A lot of very talented, experienced and fast athletes are coming out for this, and I imagine that many are pulling into the sprint and standard distances from other distances too, as these will be the only races in London 2013. So in Deva there was a lot of carbon and a lot of abs. And a lot of it was in my age group. We're the guys with money and a mid-life crisis; either that or we're hitting our peak performance years for triathlon. Something like that. There are a number of reasons but the 35-39 age group is a hard nut to crack.

It was a fantastic sunny morning in a gorgeous location after a crap night's sleep. At least that meant I was up extra early. I didn't have the time to properly check out the parts of the course I normally would the day before: bike mount line, dismount line, swim start, swim finish sighting, swim distance markers, etc. It was a long drive up and 2 kids wanted to go camping not traipsing around Chester. Fair enough. I managed a good recce of transition and had a quick look at the swim finish before the start, but after a few arm swings and a brief briefing we queued to get in the water. Unfortunately it took so long to get in the water there was barely enough time for a pee let alone a warm up. We had a minute-to-go-warning and I had to quickly get myself to the line.
Assuming there would be plenty of fast boys here I started a couple back on the bank side of the river. Fast start, see? Sprint, get the fast feet, and get a good draft up current. That didn't happen. Fast start, but at 100m I was still clouting elbows on both sides and the group hadn't thinned out. Crikey. Battling for feet I got pushed wide, and had to pull back in to the left of the moored boats. I got some draft, but moved around it partway up and ended up swimming wide and solo for much of it, and swimming like crap too.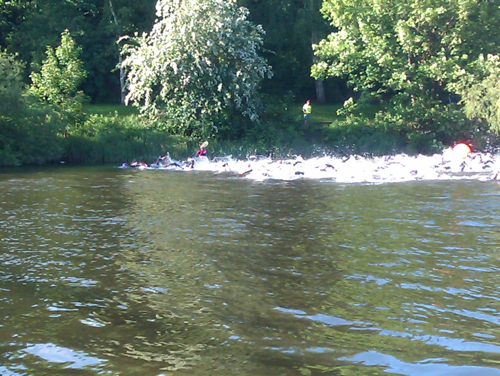 Swimming wide upstream avoids the current, but most swimmers were further left. I caught up some feet in the latter half of the upstream swim, only to lose them (behind me) at the turn and the downstream, mid-river section. A yellow, moored boat distracted me (the buoys were also yellow) and pulled me off line, but the downstream swim was cold. My feet were cold (normal) but gradually I lost the feel for the water in my hands. I couldn't even feel what I was doing. Then my back and latissimus dorsi muscles chilled and I really couldn't feel if I was pulling or not. I was just moving my arms and fading. The original pacing plan was to swim upstream hard and downstream easy, so maybe this was still working.
Even with a strong kick to the end to try to push the blood up my body I was welcome of the marshal fella that hoisted me upright by my armpit. Running on numb feet to transition (up hill of course!) my swim time was very slow and the GPS later confirmed that the swim course was closer to 1.7km than 1.5km. I averaged just faster than my 1000m pool TT pace, so maybe it wasn't too bad but it felt like a very poor swim.
T1 was smooth (well done, numb fingers!) and I got out on the bike well. Cold feet didn't want to sit on top of my shoes, but at least it was better than the guy in front of me that mounted and then kicked one of his shoes across the street. Ooops.
The start to the bike was sunny, downhill, and a bit rough. My legs hurt early because they were chilled and my heart rate was low and didn't want to come up. High cadence, in position, get on with the job. The course was pretty dull, rough in places, very fast in others, a bit breezy (I had managed to check out the overall wind direction the night before) with a wee drag for the first half. Big boys overtook me and I jostled with some guys of similar pace. The big boys stayed in sight. I raised my effort from 30 minutes and the minutes slowed down. I raised again in the last quarter, then got back to Chester and was slowed in a narrow, winding section by a slower rider. I was chasing pink (35-39 age groupers had pink numbers).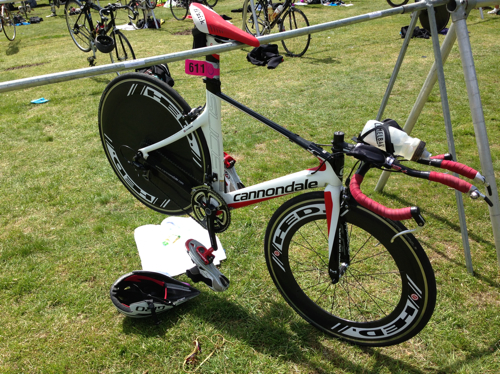 The dismount line was a bit of a surprise and I think the mount judge was impressed with how quickly I got my feet out and off the bike. Another quick T2 and I passed a bigger cyclist before we exited and got into a nice run pace from the start. Like last week we left transition downhill, so learning from last week I took it steady and didn't stitch. Up over a suspension bridge over the Dee (very pretty) and I pushed the pace to where it needed to be. Most of my pacing was done by feel but my watch lapped every km so I got some updates on pacing there.
The roads were good, the racing line was fine, there was a short off road descent (not so good) and then much of the run was on a loose surface or uneven grass until we got back to the finish area and repeated for a second lap. It was ok. I picked up a bunch of places on that first lap, and lost a few in the second lap to some whippets. We were overtaking a lot of ladies from the previous wave but I didn't really get stuck in traffic. My pace dropped in the middle, probably from a dip in concentration, but I picked up the effort for the last few km, and then again for the final km. The data showed later that I picked up the effort but the pace didn't come with it. Maybe more sugar would help, but more work certainly will.
In the last km I was overtaken by a guy in my age group that I'd been tussling with on the bike. His finish was exceptionally fast, and I did get caught up in the narrow bridge but I wouldn't have stayed with him anyway. It turned out we were racing for 16th place in our age group and 57th place overall. Sheesh. The top 5 in the age group qualified for the Worlds. We were a long way off. I probably never even saw the qualifiers during the whole race.
At the finish line pinks quickly appeared behind me. It was a very close race.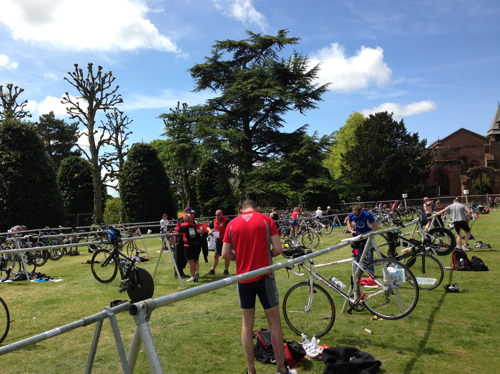 The race itself was very well organised, with great marshalling and we were really well looked after on the bike course with coned corners and whatnot. We had fancy colourful tattoo race numbers, and plenty of goodies at the finish. The entry fee was a tiny £42 after getting your fiver back for being a BTF member – these days that's a bargain. Kim loved the look of Chester (old Roman town with some great architecture) so we may well come back for another crack at the course and stay around for a bit longer.
I think I was a bit negative mentally at times during the race, particularly after the swim and feeling so leaden. The numbers all suggest I was off form, which matches how I felt in the preceding days, struggling to recover from Gloucester and a mid-week workout. The plan is to peak for the European Champs in a couple of weeks' time so I was never going to be fresh for both races. The competition at Deva just ripped me apart for this, but looking at the qualifying times I doubt I would have made it even if I'd been in the best form of the year.
There are some awesome triathletes in the UK, and they're pushing my athletic aspirations. Thanks guys. I'm still knackered 3 days later.
Official photos here:
eventpics.chestertri.org.uk/searchalbum?q=samuel+webster&o=1&a=29455
Results here:
events.chestertri.org.uk/deva-tri/results/