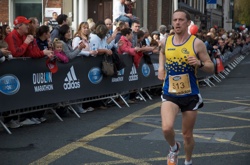 For the biggest race of my running year I really don't have that much to say. I'll post some stats, data and training histories soon to show my build up.
Kim and I wandered to the start with 13,000 other competitors and I got settled into position near the front nice and late after a very brief warm up. My heart rate was very high at 120bpm when stood in the crowd of runners behind the start line, although I felt relaxed & ready. The wheelchair athletes started about 5 minutes before us, and then we started at the same time as the elites at 9am.
The first mile was fast and downhill, so even keeping my effort easy I ran the first mile in under 6 minutes. My race plan was 6:30min/mile pace to halfway, 6:20 pace from miles 13 to 20, and expecting a fade to 6:30 pace for the final miles but hoping for a strong, hard finish. I felt that this plan was a little conservative, based on my running and progression rate this year, but I intended to stick to it for my first marathon.
The second mile, as must all things that come down, went up, still through thick crowds up and out of the centre of Dublin. I ran this mile in 6:58, I think, HR fairly steady, effort level feeling on target. I was happy for runners to be swept along around and ahead of me, but by the third mile we'd all settled into our paces, more or less, and I was onto 6:30 pace before we got to the park.
Phoenix park is lovely, and the miles started to tick by as I warmed up. Water, gels, miles, steps – this was easy running. I hit the 10km mark at 39:46, and at the time remembered that was my finishing time for my 10km race in Margam Park a year ago! So my pace was a little up on 6:30min/mi, but my effort level was easy and this was backed up by my heart rate. It felt as though a lot of the first half of the race was downhill and I picked up a lot of places and time with efficient technique rather than effort. The miles kept ticking by.
At halfway I crossed the timer at 1:23:11 and started doing the maths in my head. I felt that to even split this race (and smash my original target of 2:49) I was going to have to work bloody hard to run the second half in another 1:23. The first half had been easy but I had little idea of what my legs would be like beyond 20 miles. If the first half of the race truly had been a little downhill, then the second half certainly wouldn't be.
From the halfway mark I began to race, and so did the guys around me. We were all working harder, running faster, but with respect to one another there was little change. Every few miles I moved through groups, mostly leaving runners on the descents & sticking with others through flats and climbs. In small groups we picked off fading runners and the occasional elite in difficulty or female elite. Miles 13-20 were starting to feel hard, as I had expected, and parts of the course out there were not as pleasant to run through as the park had been. Mile markers were often placed at water stations and in the focus for getting water I often missed the markers, missing my split times and annoyed that I wasn't marking my progress. I had started to run for the markers, counting up the miles to mile 20. It was getting harder, but I was keeping pace.
I grinned at the mile 20 marker. I hit this marker at around 2:06 or 2:07, so had to run my final 10km in under 40 minutes, just like the first 10km, to hit 2:46. I could do that. The mile markers started to feel further and further apart though, and my legs didn't take much advantage of the downhill running of miles 22 & 23, back towards the city centre.
From the mile 23 marker onwards my brain and legs were strongly suggesting that I should stop, and that 6:30 pace really wasn't on. "Shut up, brain. You haven't run this distance before, so this fatigue is an unknown. My legs can do this". Keep pushing. For a little while I had been running ahead of a guy called Ben, with his name written on his shirt. I could hear the shouts of, "G'wan Ben!" and, "Keep going Ben" getting further and further behind me. I knew I was still running strongly, I was still tall, and I was putting distance between me and my competitors. I really wanted 2:46. I really wanted 2:46.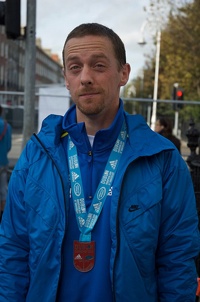 A couple of small bridges really challenged my pace, but I blasted hard up them and pushed forward down the other side. As I recognised the scenery from training runs and got closer to Trinity College I got a bit emotional, which really does make breathing difficult. This was the culmination of a year's hard, hard work, and I was going to smash a target I was really unsure that I could meet. With a mile and a quarter to go I was safe, and I pushed as hard as I could. The crowd was thick, loud, and got narrower and narrower as I curved around Trinity and hit the 26 mile marker. I saw Kim in the crowd as she and all around her shouted at me and for the first time this year I couldn't even muster a smile. All I had was pain. Pain and seconds ticking away. It felt great.
I crossed the line at 2:46:45 by my watch and 2:46:51 by the big clock. Stopping after running so hard for so long was a weird sensation as the world rushed past me, rather like when you get off a treadmill. I almost vomited, was almost caught by a finish line attendant, and almost walked into an interview, but I held myself up and shuffled around as my head cleared. Satisfaction, happiness that it was over and at what I had achieved, but no buzz. That elusive buzz – I thought I might get it again from this.
The walk around the square to meet Kim was endless and I had clearly destroyed my legs. Walking was pain. When I eventually got to Kim she helped me sit down & change into warm clothes. My legs didn't want to bend, flex, or move themselves. They were done. That is probably what I am most proud of – that I paced this race so well, and gave everything to it. There's no such thing as a perfect race, they say, but on a personal level this was as close as I'll ever get. I've got as much time as I want to recover now, and my legs will be well looked after to let them repair from all the horrible things I've done to them this year. And then they'll be learning how to ride a bike hard, again.
Race data: (ignore the dodgy altitude data of the first 2 miles)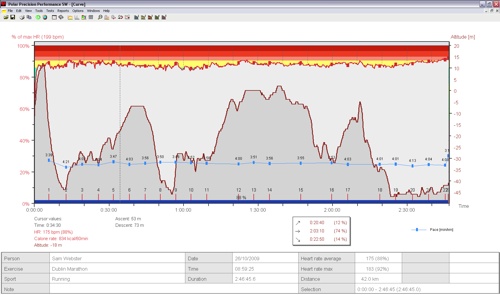 Results: (dublinmarathon.ie/results.php)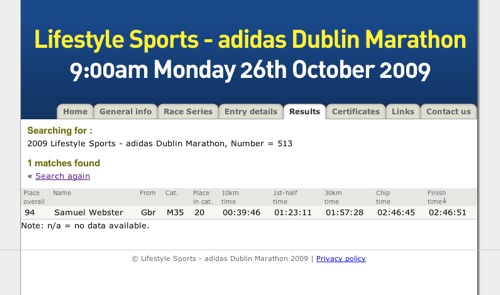 Flickr photos:
http://www.flickr.com/photos/samwebster/sets/72157622683152742/