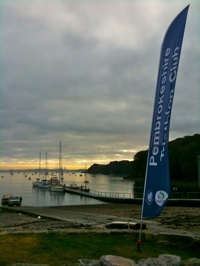 I ran the Pembrokeshire half-marathon yesterday in Dale, organised by the Pembrokeshire Triathlon Club. I chose it as my last race before the marathon because of the distance, the hills and the location. I was guessing from the maps but when we got there it was as pretty as expected. Kim and I have climbed on and walked around much of Pembrokeshire but we hadn't been to this bit. Coffee by the placid water of the estuary was a great warm up.
This isn't much of a race report really, as my aims for the run were to ignore timing and placing and to mimic the first half of my marathon plan with respect to effort, pace and psychology. I was very good and didn't start too fast, was happy in the front bunch but content to let it fragment ahead of me, and kept my effort even. My heart rate was higher going downhill (and not just because of a wardrobe malfunction – I'm not racing in those shorts again) than uphill, and I even got a little lazy on the later climbs.
The views were great, and the run out to the lifeguard station on top of St Annes Head let the runner see all around to Skokholm Island and the cliffs and inlets of the coast. The predicted sunshine never broke through the cloud but there was little wind and the temperature was good for running, if chilly for Kim taking photos.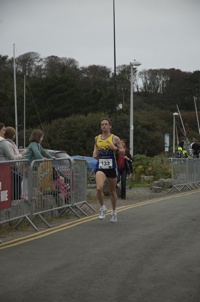 As I am continually learning, my constant pace meant that I caught runner after runner as the race progressed. I ran efficiently and strongly, not racing individuals but nonetheless passing them as we all got closer to the finish.
It really didn't feel like a 13.1 mile run as I eased into the final seaside stretch. I could have continued at a higher pace for another 7 miles certainly, but beyond 20 miles? I've no idea yet. My legs weren't fresh before the race and were sore for the first few miles, and the descents were tiring for quadriceps muscles. I was very disciplined though, and will take much of what I practised forward to the marathon with confidence. I feel that my race plan is strong and conservative, but flexible.
So I finished at 24:30min(ish) and in 4th or 5th place. Aiming for an average 6:30 min/mile pace but modified for the hills I had run faster than expected but reviewing my heart rate data my level of perceived exertion was about right. Pat on the back. Job done. Dublin next.
Links:
Where is Dale?
Pembrokeshire Triathlon Club
Results
Flickr photos