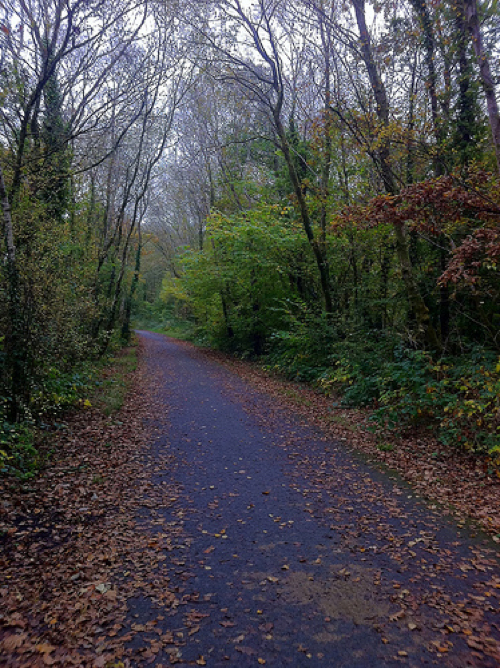 I'm in an easy week at the moment. That's an easy week of training anyway, not so much everything else. In almost all of my training phases I have an easier week every fourth week. Three weeks of increasing load, one week easy. I aim to ditch as much fatigue as possible, to freshen up physically and mentally. Many of the physiological adaptations I'm trying to develop kick on during the early part of this week, making each subsequent 4 week block larger and faster.
There are downsides to an easy week. When races have been entered and are coming up soon easy weeks are also weeks for testing; measuring how much improvement has been gained over this training block. Motivation is easy to come by. The world is warming up and the days are lengthening. Right now, in the autumn, this isn't the case. My mornings are getting darker (but you have to run in the dark to see the dawn) and the triathlon race season is a long way away.
After squeezing multiple training sessions in each day (although cheating by running or cycling to work and back is helpful) and compressing your time an easy week shows you how much time you *could* have. Wow, sleeping in until 7.30am. Having breakfast with the kids. A whole day in my office without disappearing off to swim in the afternoon. Staying up late to play World of Warcraft. I could get used to this. Why on earth do I train so much? Do I really have to get up for a short run tomorrow morning?
But when you do get up and go for that run you remember. This feels good. Aha, my pace is coming back after all those miles and a few easy days. My heart rate is much lower than it was 4 weeks ago. It's a nice quiet morning and the sun is about to come up. It's chilly and there's some light rain but I'm not cold. Nothing hurts, this is easy.
And when I sit in my office all day with plenty of time there's no rush. I don't have to leave at 12.30 for the pool so I don't need to hurry up and get this finished. I procrastinate. And my back hurts. Sitting down all day is terrible. I still don't get home any earlier.
Next week the mileage goes up again. I'm working on my running and swimming through until Christmas as my weaker areas and have some hefty volume targets to hit. My run mileage has been poor for the last couple of years as I haven't been very robust. So next week and the week after and the week after that will be tough, and the fourth week will be easier. Even rewarding, maybe. My runs are getting longer, I need to get up earlier, and the mornings are getting darker. At least the clocks go back this weekend!