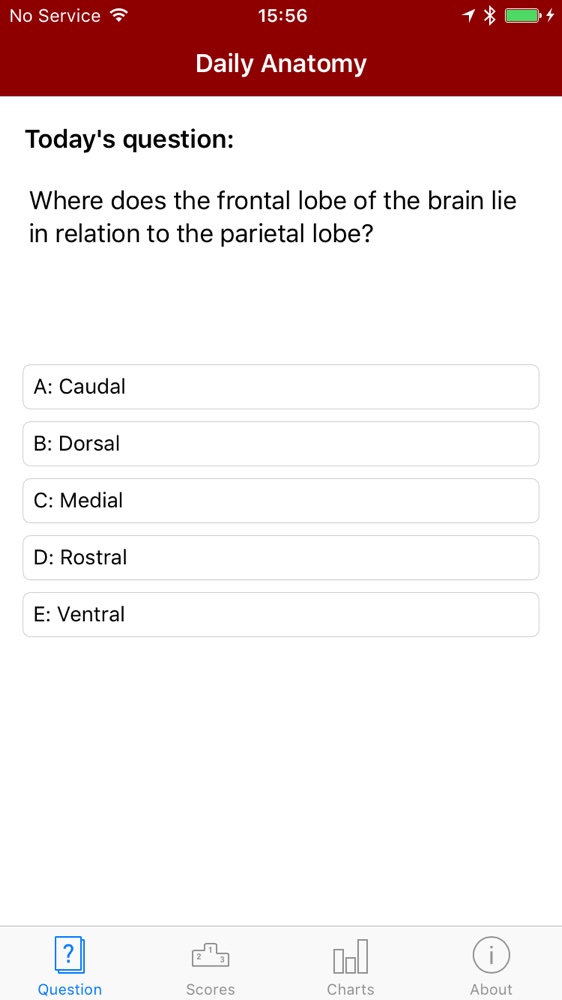 I thought I should update you guys on what I've been doing with the Daily Anatomy app since its release in January, and what I'm planning to do.
My main job has been to write batches of new questions and add them to the ever growing pool of questions that the app draws from each day. We have seem some questions repeated, and we've seen some interesting sequential questions on the same topic, and some similar questions asked, but these are all chosen at random. The bigger the pool, the lower the chance of seeing the same question again. Writing good quality, accurate questions with a helpful feedback description is a lot of work (and a big part of my other job!) and this is why this is a paid app – I need motivation to keep writing these things.
With some of my beta testers we've listed plans for adding achievements to the app, to reward users for answering a number of questions correctly for each system and region, for example, among others. I've also written some code to note your longest correct question answering streak and I'll add a second leaderboard so you can compete on this front too.

People have asked if there could be a way of getting questions of a particular difficulty or on a topic that they've studied. As the app is aimed at a worldwide audience this is difficult as you'll all be studying different areas at different times, and the main job of the app is to give you all the same, random anatomy question, once per day. If you haven't covered the topic and you're keen to score hopefully you'll go and read about the topic – doing well in anatomy is all about putting in the hard work.
People have also been asking for more questions. I have been thinking about how I might award bonus questions for an achievement, or maybe how I might offer bonus questions on a particular day of the week. I might offer a choice of two bonus questions – the hard question might award 25 points, whereas the easy question might award the normal 10 points.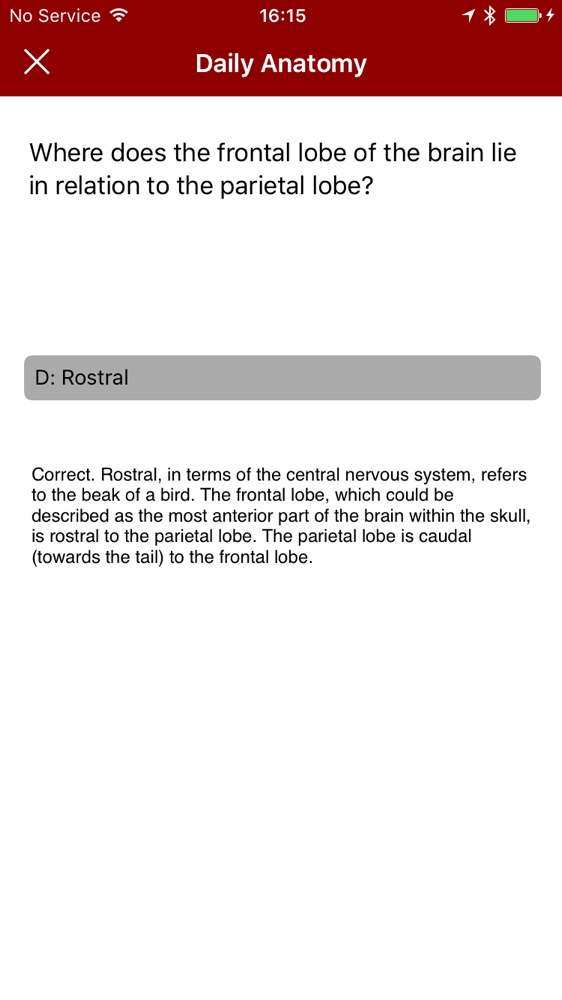 I've also got some ideas for adding some more icons to the question page to tell you a bit more about the question. Is it considered a hard or an easy question? Which system and region is the question related to? Things like that. I like the simple format of the app, but I think I can tweak the design a little and improve the functionality.
I've begun work on an Android version of the Daily Anatomy app too, which should work in a very similar way. As I'm spending most of my available time for this app on writing new questions, the Android app has been progressing in fits and starts. I may release it with slightly reduced functionality than the iPhone app just to get it out there sooner. One of our medicine students was a coder in a previous life and is very experienced with Microsoft products, and I've asked him to produce a Windows Phone version too, which he's working on now.
I'm still putting a lot of work in to this in the background, some of it invisible to you, and some of it will become apparent in future updates. If you have any ideas or comments feel free to let me know.