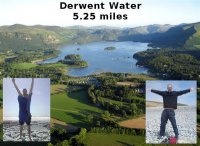 A couple of buddies of mine will be swimming the length of Derwent Water in the Lake District this weekend to raise money for charity (and for bragging rights). The length of the lake is a little over 5 miles, and the swim is likely to be a touch longer than that. It's a cold swim, with no wetsuits: just speedos and lard.
If you'd like to sponsor them (and Matt is raising money for the Welsh kids hospice, Ty Hafan), please click on the links below. Even if it's just a quid or two, they'll really appreciate it. Rich is pretty unlikely to do anything like this again.
Sponsor Rich (St Margaret's Somerset Hospice): justgiving.com/richbirks
Sponsor Matt (Ty Hafan): justgiving.com/matthoughton
Find out more on their Facebook group.
Interestingly, I looked at both Derwent Water and Swansea at the same scale on Google Earth. The lake looks bigger than Swansea, and the length of the swim is about the same as my daily commute to work!
Hopefully I'll be able to link to some photos of this soon after the event. Now wouldn't this be an ideal thing to Twitter about from your mobile phone in the support boat?