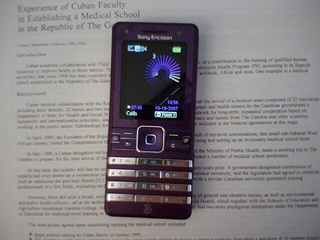 To make it clear that I will not be buying the first iteration of iPhone due to be released in the UK on November 9th I've signed up for a new contract with 3, and picked up a shiny new Sony Ericsson K770i. My number will get ported across in the next few days.
The iPhone and the O2 contract that goes with it are poor value for money. The potential functionality of the iPhone is crippled, and can't do what I need a mobile phone to do, let alone what I need a PDA for. 3 offer great value for money, to the point where both Kim and I can have new phones and new contracts for the same price as one O2 contract. Since Kim never had any credit on her pay-as-you-go mobile I'll feel happier to know that she'll be able to contact me and vice versa during the last month of her pregnancy.
By the way, I've found one boy's name that I like: "Kane". I feel it goes very well with the name "Jack". Your thoughts? Kim prefers "Max".