We safely arrived in The Gambia and the hotel after many hours and much tipping of Gambians. The flight was very picturesque, passing south over England, crossing France, the Bay of Biscay, flying over Portugal or Spain, and then north Africa down to Gambia and Banjul.
Today, we met with our Gambian counterparts in a lengthy meeting to introduce each other and get some ideas onto the table, followed by a tour of the Royal Victoria Teaching Hospital to see the facilities and staff (or lack thereof). This further helped our group to form ideas and plans for the rest of the week.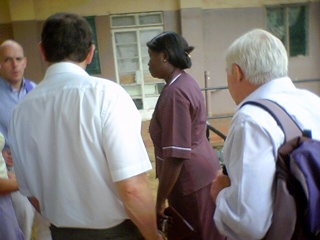 Visiting the teaching hospital.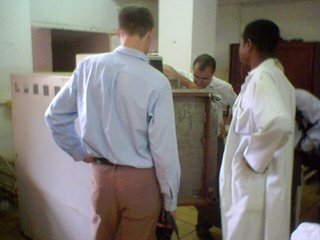 Puzzling over a burst autoclave.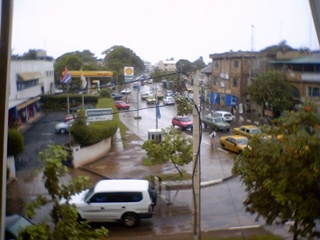 A wet Banjul.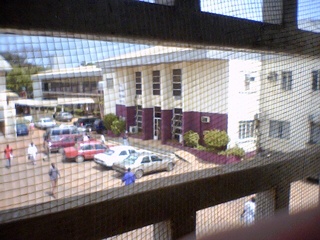 The front entrance to the Royal Victoria Teaching Hospital, through the mossy meshed windows.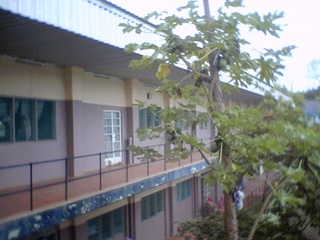 Outside a typical ward.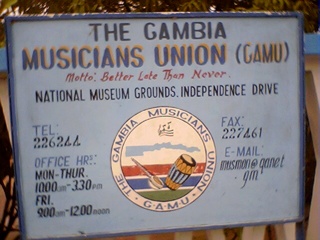 The neighbouring Gambia Musicians Union has an excellent motto: "Better late than never".
We saw a bit of Banjul, but I nipped back to the hotel to cool off in both the pool and the sea/estuary/river to puzzle out the hotel WiFi. We found the hospital library, which has a number of up-to-date Dell networked computers and a good collection of books, but the internet service provider's bill is currently unpaid so the students cannot access any information on the internet.
Steve has some night maneuvers planned (which is a worry) but these will apparently end in food (which is good). Check the Swansea-Gambia Link website (sgl.swanih.org) for more information about this week's scoping visit to The Gambia.