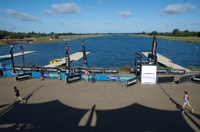 I'm training for the Dublin Marathon at the end of October, so I was looking for a race or 2 for interest and measure that would fit into my September schedule. I really didn't fancy lining up at the Bristol half-marathon with thousands of others. Hunting around I found an interesting length of race: a middle distance aquathlon. A 2km swim in the lake followed by a 21.1km run around it, at Dorney Lake. This is Eton's rowing centre just west of Windsor and was within range of my parent's house (leave the kids there, disappear for a morning's racing with Kim). That sounded like fun, would let me run at less than full race pace and would give me some information about my open water swimming for next season.
We had a great, clear, sunny September morning for the race and the strong winds we'd had all week had dropped to about 15mph. 108 competitors had signed up for the event and it looked like we had almost the full field in the water warming up. A straightforward course: 2 laps around buoys in the lake, transition by the lake, then feed into the run of 4 laps around the lake.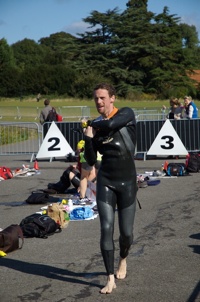 The lake was great to swim in, as it was fairly clear, clean and had tracks along the bottom for the rowers' distance markers that you could swim beside to stay straight. My swimming was poor though, and although I settled into my pace my stroke didn't. I wasn't kicking well, my stroke was short and I never really got on to anyone's feet. There was plenty of room though, and apart from getting broadsided by a pair of swimmers that were sighting to the wrong buoy the swim was uneventful and great fun. The first part was fast, the rest of the first lap was settled, the second lap was stronger and I had a good kick for the exit ramp and out into the sun. My watch said 35:00 which was annoying. That was slower than the slowest time I had predicted for myself. But I was looking forward to the run.
Transition was right next to the water so there was almost no need to jog to my shoes. It took a few goes to get my right arm back around to my zipper cord but the old wetsuit came off ok, socks & shoes went on with numb hands and feet fairly quickly, I grabbed gels and number belt, stuffing the former under lycra and clipping the latter as I left transition. My T1 time seemed comparable to everyone else's after the event, maybe losing a handful of seconds to a couple of the leaders. I haven't had to move from 1 sport to another in a race for 6 years!
Running on numb feet is a hilarious experience and I recommend it to anyone. Nonetheless, well drilled feet and legs seemed to know what they were doing and I was moving very nicely, running easy from transition and getting a little faster as feet warmed and I got closer to the first mile marker. From there I settled into a small group moving at an appropriate pace into the head wind on the north side of the lake.
My plan for the run was to limit myself but was an important workout in my marathon preparation. It was to be a long tempo run, with a solid negative split, and I was not to race hard as I needed to recover for the following week's mileage. I was to ignore placings and to focus only on perceived effort, mile pace and how I felt. I've had some calcaneal tendon soreness in the last couple of months so my effort was to test these too.
I felt strong, swift, and was moving easily. I didn't really breathe hard for the first couple of laps, staying comfortably under my anaerobic threshold, and my heart rate slowly dropped with each mile. A young runner from Reading stuck to my shoulder, using me as a shield through the headwind, and after a lap we had a chat about pacing, as I was happy to act as her windbreak. I increased my pace after mile 6 and dropped her through the feed station unfortunately, but she passed me on the tailwind section on her final lap and my third (separate half-marathon and aquathlon events ran side-by-side).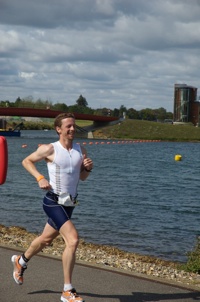 By around mile 10 my heart rate had dropped again but I was feeling some fatigue, but no real muscle lactic acid, so I increased my pace again to get the most from the workout. Everything was feeling awesome: big muscle groups, movement, tendons, feet, shoes, speed. The organisers described the route around the lake as "not particularly interesting" but on this sunny morning I thought it was lovely and was having a great run. All my recent mileage has done wonderful things to my legs. Kim was snapping photos of me and shouting at me from unexpected locations each lap, waking me from my happy, mental focus.
My arithmetic suggested that even with the slow swim I could get inside 2 hours (and felt that a time of 2 hours would be a little embarrassing) and was very happy to finish at 1:58:17. The times by my watch were 35:00 for the swim, 1:25 for the transition and 1:21:53 for the run. I felt good at the finish, not wiped out, so I think I got my effort level right. My HR and mile times suggest so too. I'd really enjoyed the whole race.
At the time of writing, the organisers say they gave 2 of us the wrong chips and don't have our timings marked correctly on the published results sheet. If they fix this and match my recorded times I should finish in 7th place overall and will have won my category (ages 35-39), which would be awesome! A good, enjoyable race and a very enjoyable result. And I know I can take minutes off that swim time…
Links:
Results
Human Race
Dorney Lake Aquathlon race info