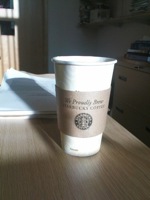 My caffe latte I, er, occasionally grab after a tough run or a strength workout at the gym may actually be a better recovery drink than I joked about in a previous post. In a full milk latte you're looking at around 10g protein, 225 calories and 5g of fat. Fat's a good thing for endurance athletes these days, by the way (Joe Friel on weight loss, Dietary fat & endurance athletes – active.com). The caffeine's pretty helpful too, if not for the improved muscle glycogen uptake effects then for helping you concentrate on work when tired.
There have also been some studies with milk itself as a recovery drink: Poweringmuscles.com – Got Milk in Your Squeeze Bottle? There's some debate about dairy vs non-dairy foods, as animal-derived products tend to have all the bad fats, but remind yourselves of the general contents of various dairy products (weightlossresources.co.uk – calories in eggs and dairy) and milk, eggs and yoghurt look like important parts of a balanced diet for us athletes that are struggling to get all the protein we need.
So between a powdered recovery drink and a grande latte, I'd rather pay for the latte. Simpler usually means its more likely to happen too.