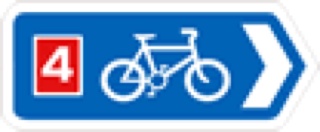 A buddy of mine has roped me into a cycling challenge. He's not much of a cyclist, and I might have extended the challenge a little too much.
He wants to raise money for a South African community that he will be visiting this summer. I want to raise money for Interburns. He suggested riding from Llandaff Cathedral in Cardiff, where he is training to become a vicar, to St Davids Cathedral out on the tip of West Wales. I said let's do it on the excellent cycle route 4 because I've ridden a lot of it, it's coastal and scenic, and it's a quiet route away from busy roads, and for much of its length away from roads entirely. That gives us a 2-day 156 mile ride though, with lots of short, steep climbs between Camarthen and St Davids. That's tough for me, a cyclist, so it'll be really tough for Steve. He'll need miles, not faith, to get him through it. OK, maybe a bit of faith in his biology will help.
We're aiming to do this at the end of March, but if the weather is awful we have a backup date in May. If the wind is blowing a strong westerly we'll do it in the opposite direction. I'll let you know more as we get closer, and I'll be hassling you for cash!